Black Friday and Cyber Monday, the biggest sale of the season, is coming! And consumers are in for sticker shock. Impact Analytics has tracked Black Friday, and Cyber Monday deals for the last five years and 2021 is seeing the sharpest pullback in promotions in the last five years (see Fig. 1). Consumers have been flush with cash leading to increased sales. In turn, retailers pulled back holiday deals significantly. Across categories, you are going to see an average reduction in promos by 10-25% meaning instead, for instance, seeing 50% discounts across some categories, you will see less than 40%.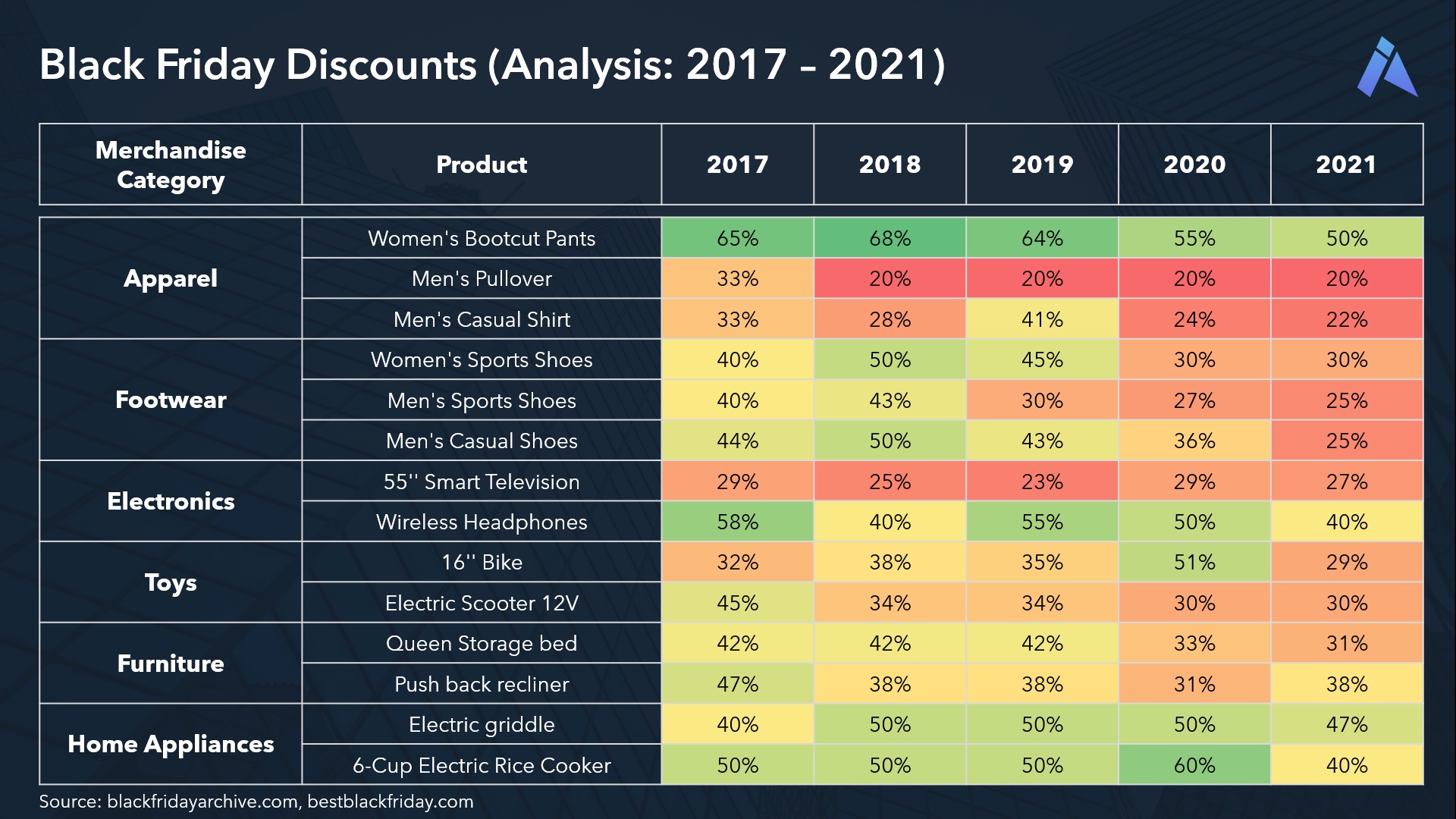 (Fig. 1)
Across categories, retailers have pulled back promotions. The sharpest pullbacks have happened in footwear where discounts that used to be in the 40-50% range have decreased to 25-33%. Men's shoes have seen discounts drop in half from 50% to 25%. Footwear, as a category, has a resurgence and this is reflected in lower discount tiers. Apparel has also seen lowered discount levels seeing decreases from 65 to 50% for women's pants and menswear from 33% to 20%. Electronics has followed a similar pattern as apparel and footwear; popular items, such as wireless headphones, are seeing a steep drop in discounts from ~60% to 40%.
Home appliances and furniture, however, are bucking the trend. Consumers have invested heavily in the house during the pandemic and retailers have not lowered discount levels in these categories. In fact with some categories, we are seeing an increase in discounts from 2020 to 2021. E.g. recliners have seen an increase in discounts from 31% to 38%.
The global health crisis has changed the buying behaviour across categories. Retailers want to reset consumer expectations for promotions and accelerate the retail market's growth trajectory.
Technology is helping the decision-makers across the retail industry to manage their sales margin, stock-outs, accurate forecasting, supply chain, flexible financial planning, and assortment planning during the sale season of any scale. Retailers are powering their businesses with artificial intelligence solutions for automation, smart pricing, and promotions and are ready to run the biggest sale season, to garner higher sales and higher margins.