AssortSmart
AI-powered Retail Assortment Planning Software
Improve margins and turns through better retail assortment planning software using our industry-leading AssortSmart solution to drive your process.
AssortSmart Advantage
With easy-to-use, intuitive interfaces and tools our intelligent retail assortment planning software will have your team turning out better assortment plans with fewer invested hours of their valuable time. Our AI-powered retail assortment planning technology lets you analyze your data to gain actionable insights that allow you to plan assortments that drive sales and customer delight.
Improved new product introductions and SKU rationalization efficient activations enable result-driven new product introductions. AI-driven processes lead to clear views of underperforming SKUs allowing efficient SKU rationalization and improving your assortments as you go.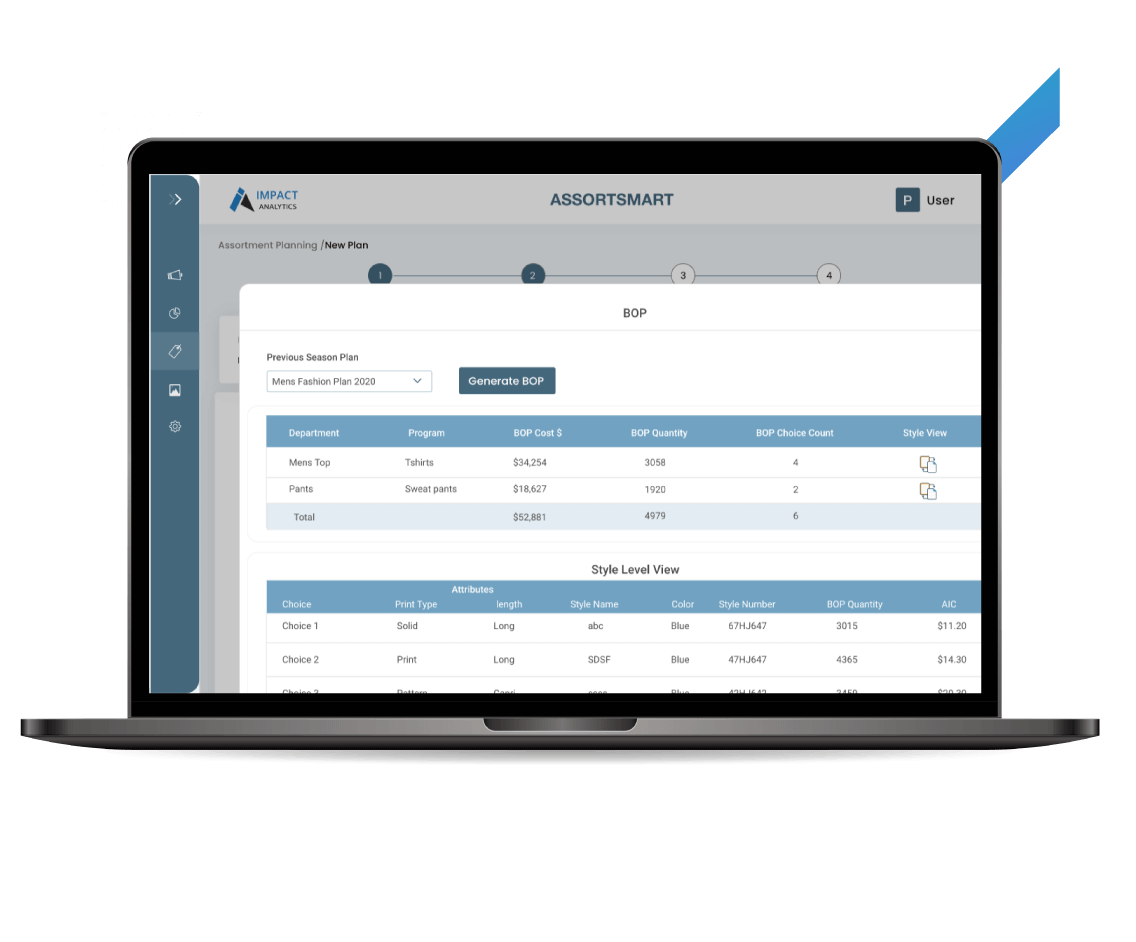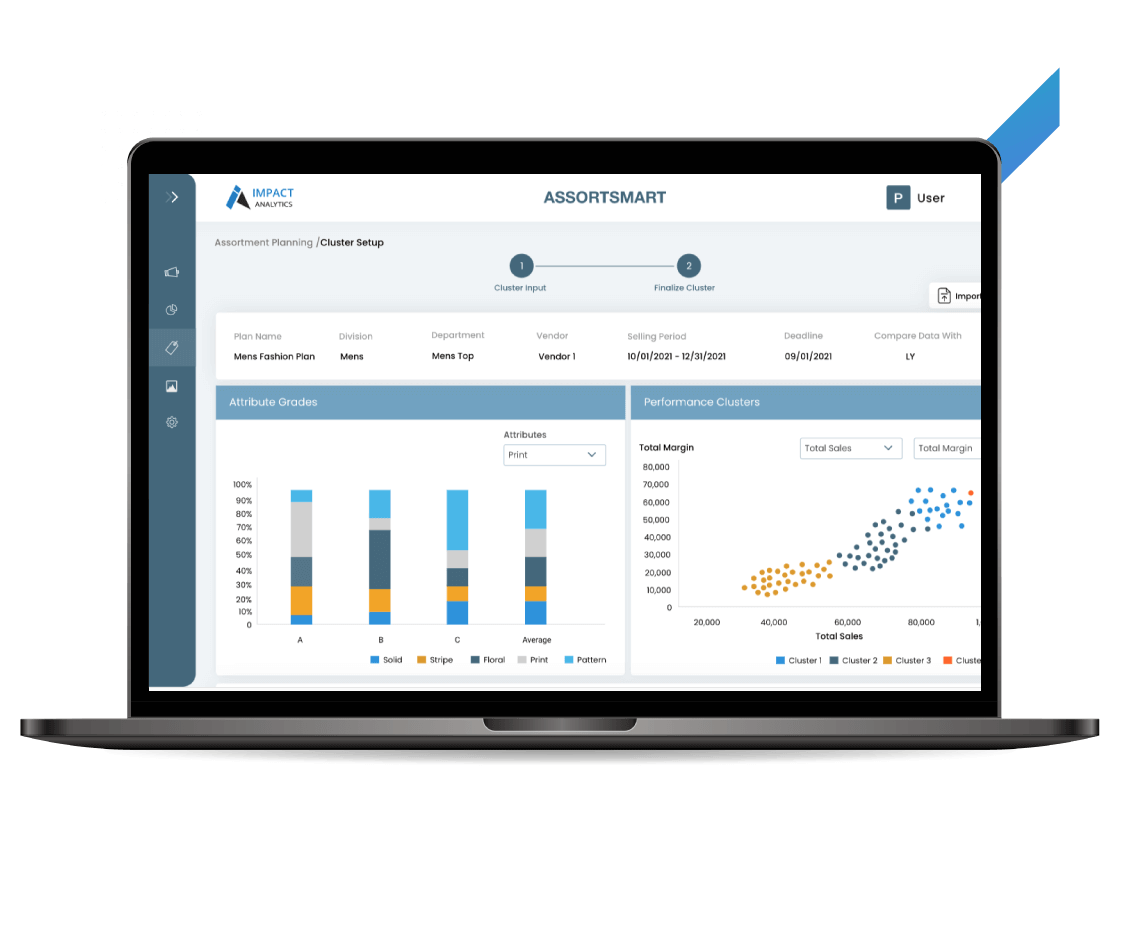 One-stop solution for new products and SKU rationalization
Efficient activations enable result-driven product launches. AI processes lead to clear views of underperforming SKUs allowing efficient SKU rationalization, cleaning up your assortment as you go.
Reduce Overstocks and Stockouts
Identify lost sales through intelligent insights, and increase your sales margin through reduced inventory overstocks.
Better accuracy and high efficiency
Machine learning and AI-assisted tools allow you to reduce manual data entry, and have your team spend less time keying in error-prone results and more time engaging with actionable insights.
Effective Control and Management
Effective management of business budgets, increased visibility at division, category, and class level, and better overall merchandise assortment planning.
AssortSmart Features
We maximize the potential of our users by automating repetitive calculations, leveraging machine learning to identify patterns, and enabling a truly different retail assortment planning software process.
Intelligent Clustering
Retail assortment planning and management software based on intelligent insights that resonate with customers by ensuring the right product is at the right location at the right time, on the right shelf.
SKU-level Visibility
Reduce merchandise procurement time and ladder up to improved plans with granular SKU-level visibility that forms the basis of intelligent groupings across planning levels.
Line Planning
Streamlined assortment data management with real-time updates. Flexibility to view, manage and adjust at each step of the planning process.
Customer-Centric Assortment
Increased shopper satisfaction through building localized assortments through highly accurate customer behavior prediction, based on our NextGen AI-led Forecasting.
Implementation of AssortSmart takes less than
8 weeks
.
Learn
Intake current inventory levels, inventory aging, selling velocity, and historical selling by item, class, category, and department. Review current assortment philosophy and processes.
Build
Deploy ML models to develop optimizations by category by geography and channel. Ensure localized assortments through intelligent clustering.
Monitor
Measure customer experience through shopper demand, in-stock, sell-throughs, selling velocity, and markdowns, all on a store level. Continue to adjust core AI models to improve performance
Deploy
Roll-out new assortment processes by category, including training the team. Set goals and budgets, and prevent stockouts and overstocking through predictive analytics on demand and latest trends
IA's smart

AI-powered
predictive analytics
benefitting retailers in 
10%
Increase in
Average inventory turn
80%
Reduction in time spent on assortment planning process
~5-10%
Reduction in non-productive SKUs
See AssortSmart in action
A platform built for expansive data access, powerful analytics and actionable insights. See how we are transforming assortment planning and optimization for our customers.
REQUEST DEMO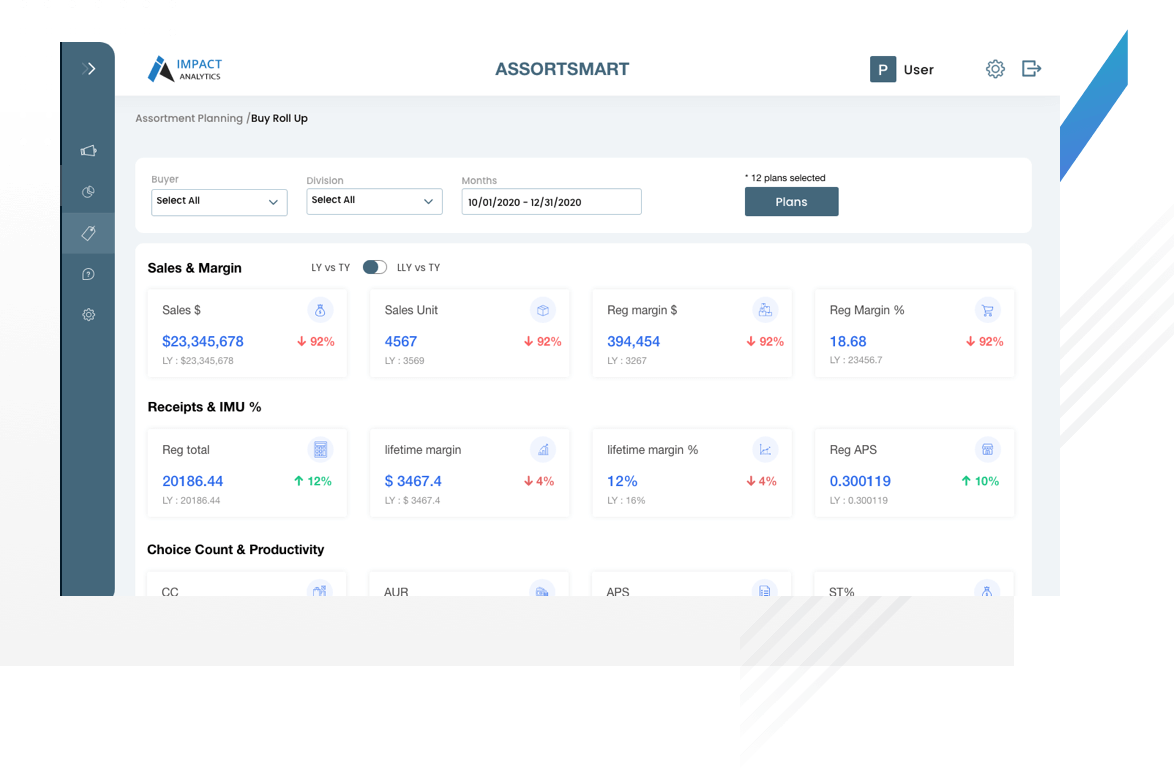 Here's why our clients trust us
AssortSmart can work within our business constraints. I used to think our internal processes were one of a kind and no tool would be able to work around our business nuances, but this product is able to do that and deliver real, actionable recommendations

Director Assortment and
Allocation, Leading Footwear Brand
We were creating our assortment based purely on revenue, AssortSmart is telling us which assortment plan will work best for which doors based on product attributes.

Head of Planning,
Large Department Store
It was all guesswork before AssortSmart. Apart from the data driven nature of the recommendations, the application is well tuned our business nuance making it extremely useful and contextual

VP, Planning and Merchandising,
Leading Specialty Retail
The automation of the process is unreal - now I am actually able to evaluate multiple scenarios before finalizing my buy plan

Senior Buyer,
Specialty Retailer
Industries that have benefited from AssortSmart
Our solutions have been deployed across a range of industries and we continue to expand the settings we work in. Leverage our best-in-class assortment planning solution for your planning team to better serve your customers, and drive business growth.
Retail
Drive transparent and localized assortments based on AI/ML-led assortment management software to address the needs of your customers.
Hardgoods
Meet the ever-changing lifestyle needs of customers with an edge-aware assortment planning solution.
Fashion
Benefit from AI-based assortments that take into account the styles, tastes, and preferences of customers across every location and channel.
Manage your merchandise planning with best-in-class Retail Assortment Planning software
Your retail product mix is the cornerstone to your success. Avoid the tedious and time-consuming manual planning tasks with AssortSmart and focus on improving your sales.
Our AI-backed, merchandise assortment planning software provides you with a strategic way to figure out which items will draw in customers and help you sell at any time of year!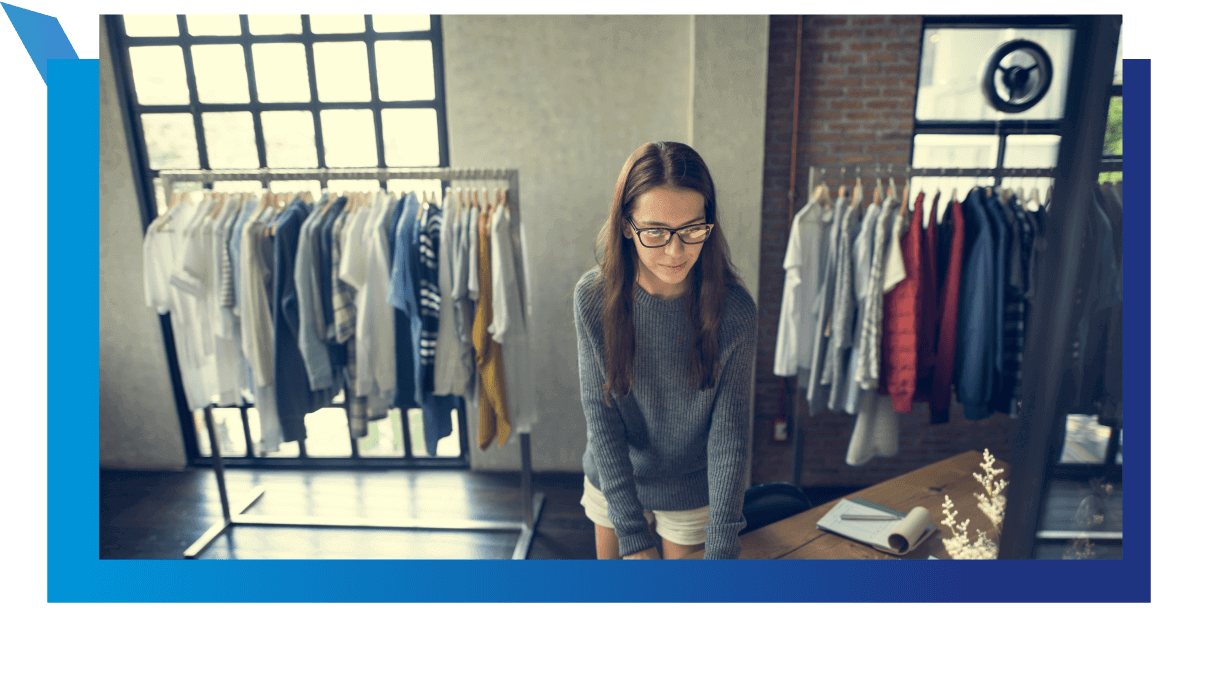 Request a Demo Now
Drive bottom-line growth with AI-powered merchandising, supply chain and business intelligence solutions
Our clients realize impactful results and so can you!
99%+
On-shelf
availability
50%+
Reduction in
clearance
20%+
Reduction in
lost sales
75%+
Decrease in
people hours
Driving ROI through
AI Powered Insights
We are led by a team with deep industry expertise . We believe in "Better decisions with AI" as the center of our products and philosophy, and leveraging this to empower your organization
REQUEST DEMO