PlanSmart
Intelligent and automated
merchandise financial planning software
Develop intelligent, forecast-driven retail financial plans and manage Open-to-Buy budgets efficiently.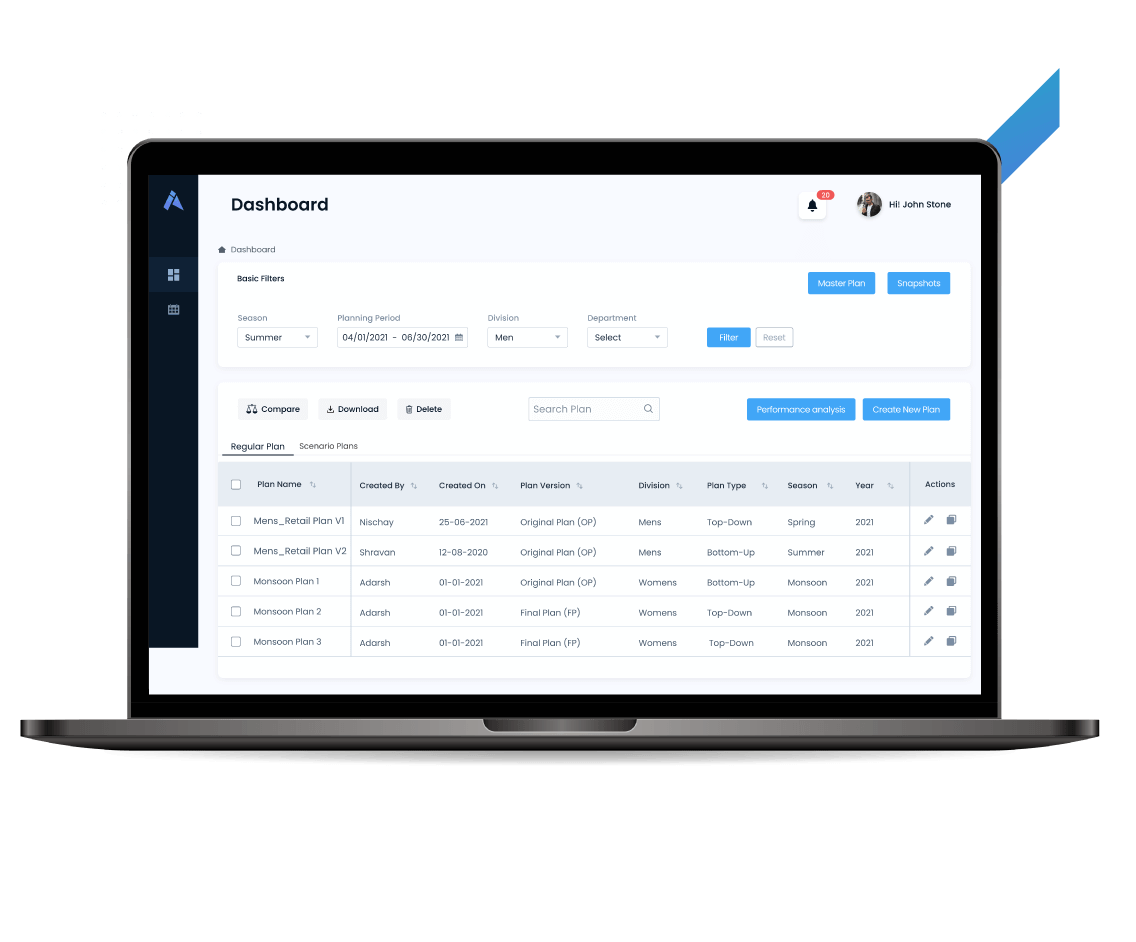 Easy Comparison
Comparisons with OP, LY, and other plans to gauge the variance and plan as per the Go-To-Market strategy.
Boost Productivity
Move from static spreadsheets to scenario modeling, budgeting, forecasting, and retail financial planning with a solution that leverages unlimited data and AI.
Optimized Plans
Generate Optimized plans based on key constraints and strategic objectives (Target GM, EOP/BOP, ST, Choice Counts, etc.)
PlanSmart Features
We maximize the potential of our users by automating repetitive calculations, leveraging machine learning to identify patterns.
Scenario Planning
Create multiple what-if scenarios and leverage easy comparison of plans to finalize the best plan.
Pre-Season & In-season planning
Plan well in advance of a season and also plan within the season with a robust in-season planning module that gets auto-updated based on most recent re-forecasted data.
Master Plan
Have a single source of truth across organisation to increase transparency and accuracy.
Planning Flexibility
Planning flexibility across channels, regions, and product hierarchy improves the quality and efficiency of planning.
Top-down & Bottom-up plans
Flexibility to build plans at higher levels of the product hierarchy and trickle them down or aggregate plans from the most granular levels.
Snapshots
Take snapshots of the masterplan for future reference and comparison.
Implementation of PlanSmart takes less than
8 weeks
.
Learn
Intake current plans, inventory, orders, external demand drivers to create an AI/ML based long range demand forecast.
Build
Leveraging AI driven demand forecasts, generate merchandising financial plans at multiple levels of product hierarchy to obtain strategic objectives.
Monitor
Carefully monitor sales relative to plan, and actively adjust using ML modeling and overlays. Manage open-to-buy budgets efficiently.
Deploy
Typical deployment is category by category, including training on new toolsets and processes.
IA's smart

AI-powered
predictive analytics
benefitting retailers in 
+10%
Improved forecasting
accuracy
60%
Increase in planner
productivity
50%
Reduction in
clearance
See PlanSmart in action
Explore how our clients drive their merchandise financial planning and open-to-buy budgets to achieve margin growth and inventory investment goals.
REQUEST DEMO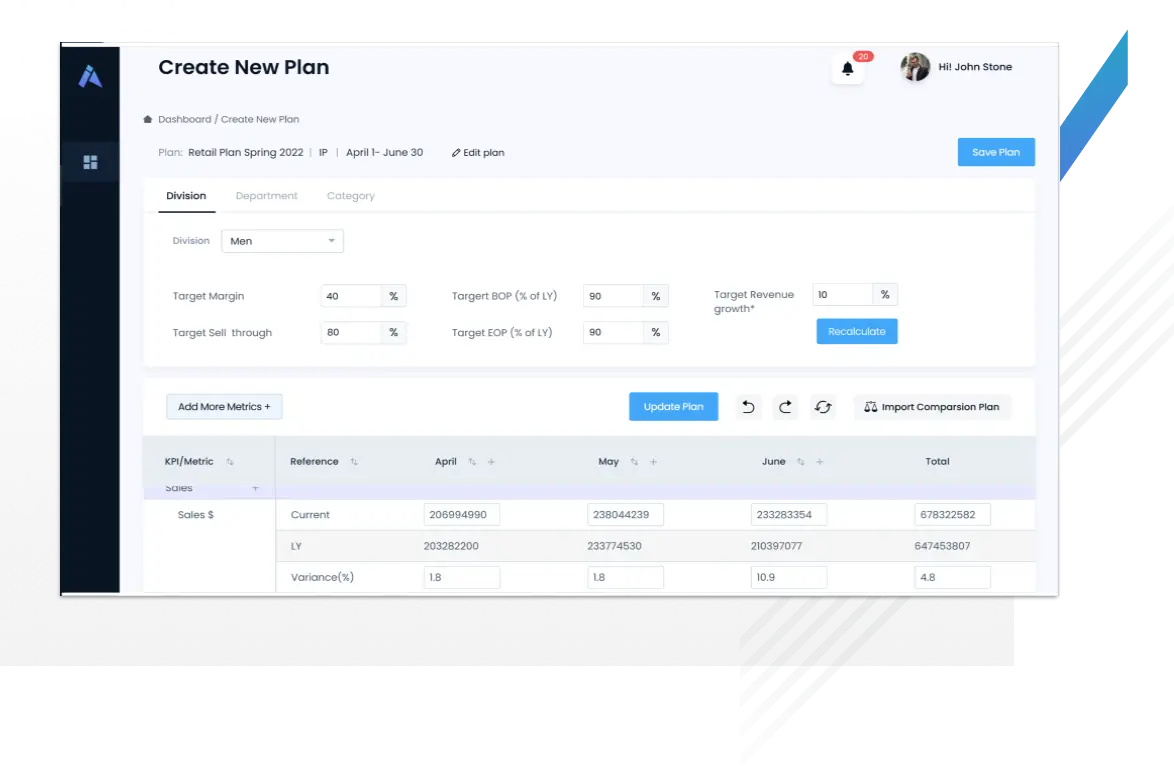 Here's why our clients trust us
With PlanSmart we were able to achieve our financial targets by strategically developing merchandise financial plans.

Chief Merchandising Officer for an apparel company
PlanSmart made it very easy for us to plan, track, and manage financial forecasts and develop merchandise financial plans all in one place with just a few clicks.

VP Planning for a Footwear retailer
PlanSmart allowed us to determine the opportunities that exist at a macro level and helped us to align our plans with growth and margin targets.

Director Merchandising & Planning for an apparel retailer
The implementation of PlanSmart helped us to proactively monitor any deviations from the budget target and has significantly contributed to the improvement of our margins.

Head of Buying for a Global fashion brand
Industries that can benefit from PlanSmart
With effective retail merchandise financial planning software get 360-degree visibility, support digital transformation, and act as a catalyst for data-driven decision-making to drive improved performance across the business.
Retail
Empowering retailers to quickly analyze, optimize and reimagine complex decisions for merchandising.
Hardgoods
Achieve efficiency and resilience by identifying merchandise risks and opportunities.
Fashion
Identify rapidly changing customer demands and unprecedented uncertainties for faster growth and customer satisfaction.
Resources
Get detailed information on the latest trends in the market, technology, and how your peers are solving their biggest financial planning challenges IA's advanced merchandise planning solutions.
Learn More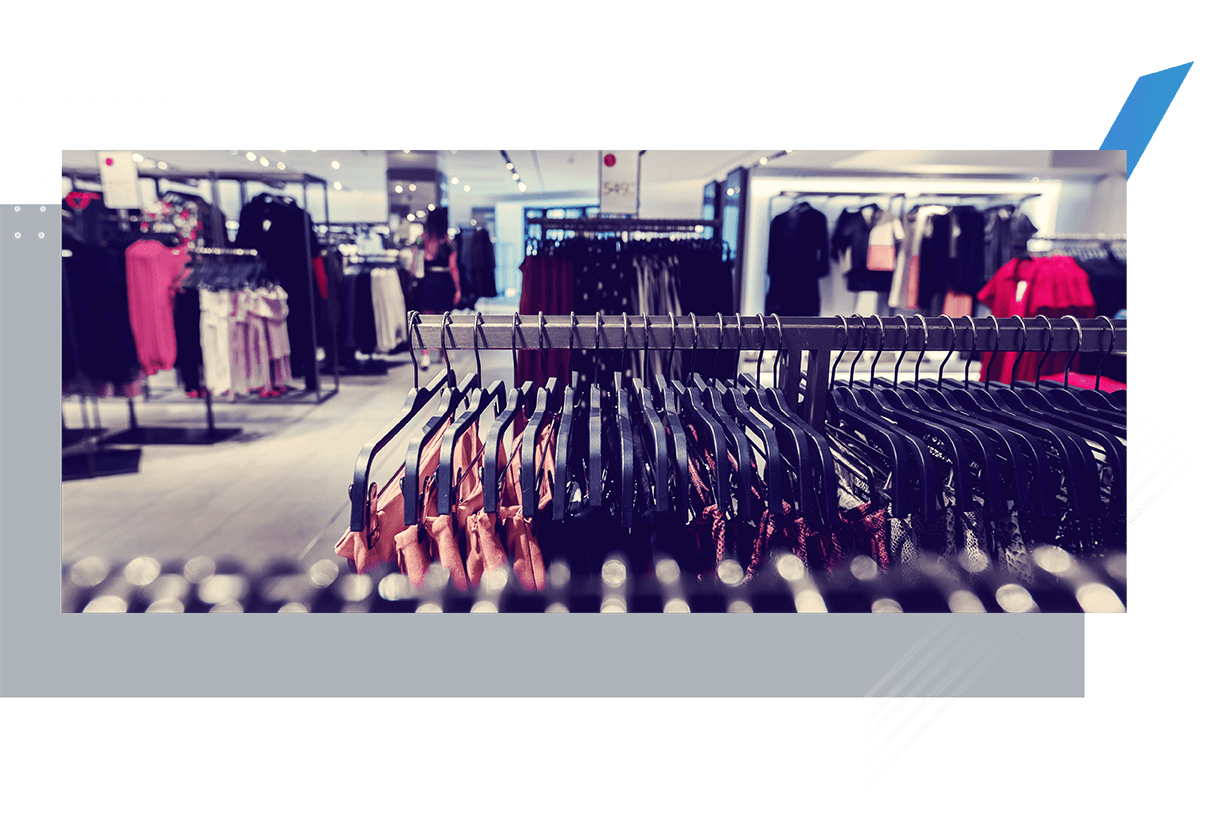 Related Solutions
Benefit from our end to end solutions at the outset, or add more as you see the difference we make.
Get ground-breaking growth with powerful merchandise financial planning software
Is your business struggling to meet top-down targets with bottom-up financial forecasts? Your business needs a one-stop solution to create and manage merchandise financial plans.
Leverage PlanSmart - the most powerful AI-based merchandise financial planning solution, designed to streamline your revenue planning, upgrade channel, sales, finance, and product marketing for effective plan collaboration and optimized margin performance.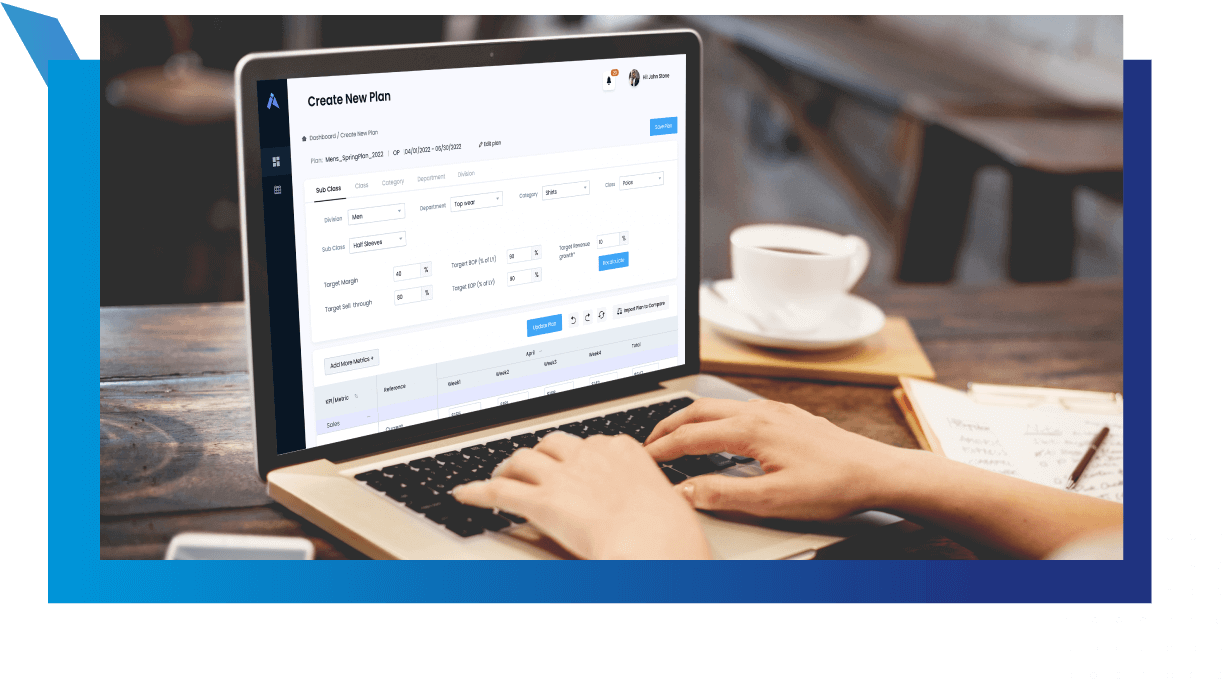 Driving ROI through
AI Powered Insights
We are led by a team with deep industry expertise . We believe in "Better decisions with AI" as the center of our products and philosophy, and leveraging this to empower your organization
REQUEST DEMO