AttributeSmart
Power Your Business with Automated Product Tagging and Attribution
Instantly add thousands of attributes to any size catalog with minimum human effort for optimal product attribution accuracy and higher ROI.
AttributeSmart Advantage
Minimize costly manual efforts with AttributeSmart and ensure 95%+ accuracy in automated product tagging workflow for higher EBITDA and CSAT scores. Retail winners invariably have the best product attribution - knowing more about each product they sell and who it will sell to. Increasingly, they are automating this process to improve accuracy and team productivity.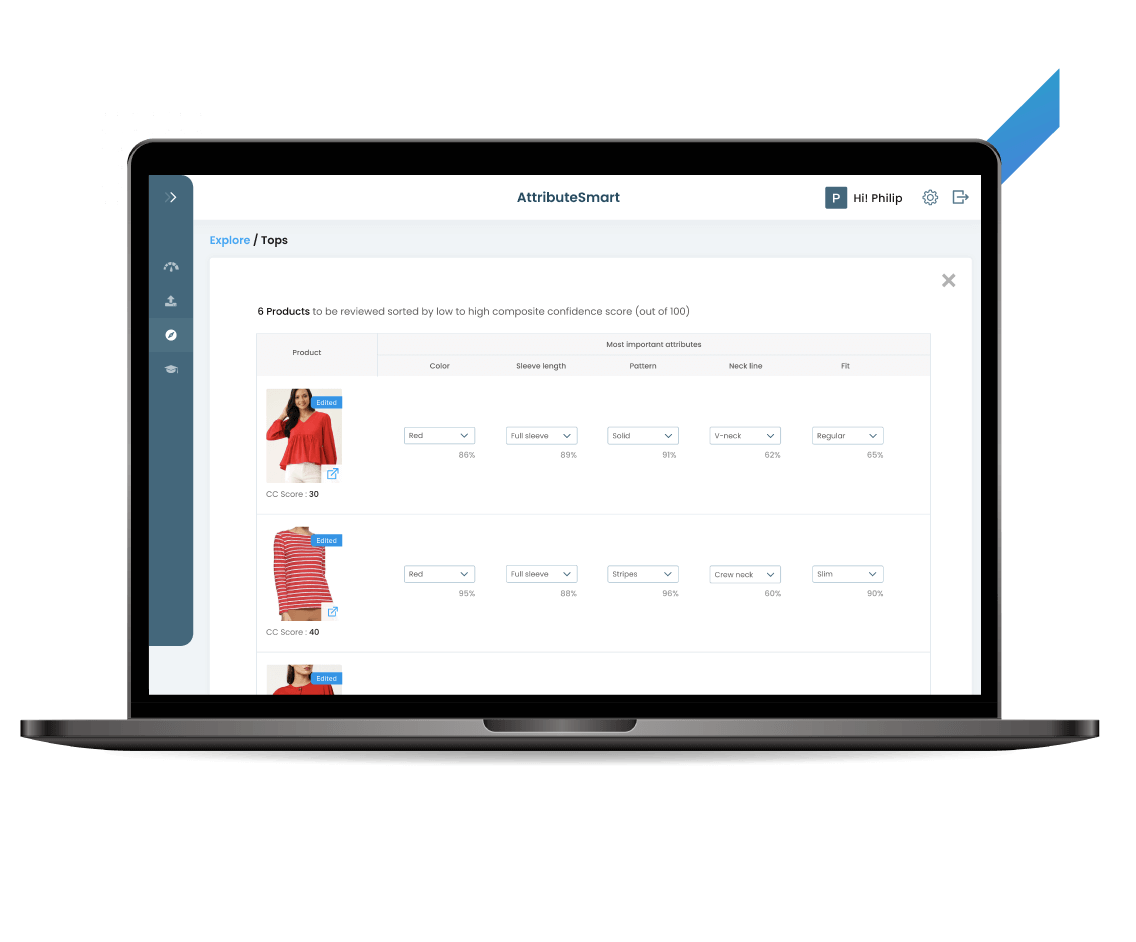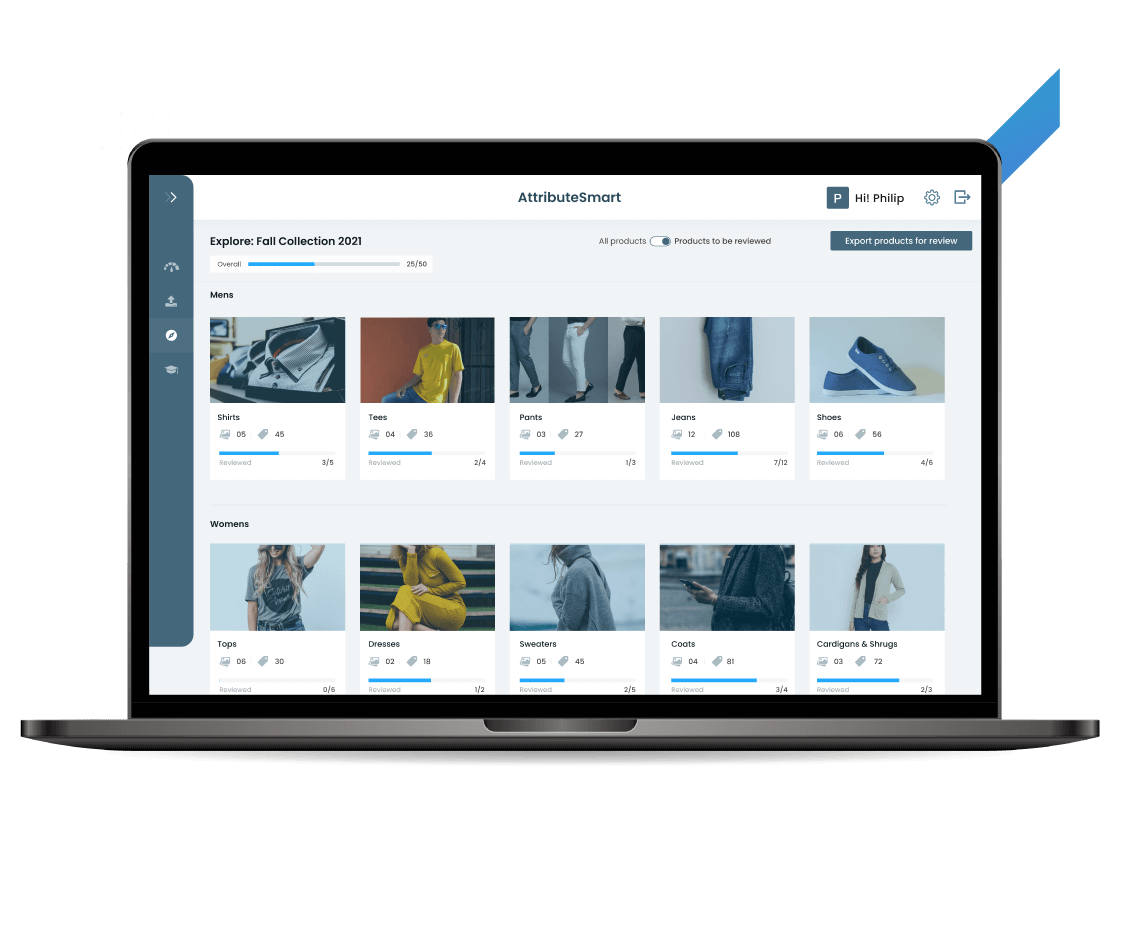 Consistent Data
Accurate automated product tagging powered by AI & cutting-edge Neural Network models. We use images, free text from purchase orders and customer reviews, search outputs, and much more to deliver the very best attribution in the industry.
Higher Merchandise ROI
Gain a better understanding of your company's performance and identify ways to improve margins and optimize costs for data-driven decision-making. Solutions that benefit from product attribution include next-generation onsite or offsite search optimization, website nav, supernav, and facet optimization, assortment planning, pricing, allocations, forecasting, markdowns, and much more.
Boost Productivity
Create accurate product feeds quickly and easily with our automated product tagging software to reduce the costs of manually tagging, and remove the inaccurate data those manual attribution processes often deliver.
AttributeSmart Features
Our game-changing solution uses Computer Vision to analyze product images and automatically generates appropriate attributes for online catalogs. We also draw on all of the categorized or free text that you have related to each product, down to the color level.
Highly Categorized
Our automated product tagging software comes with 500+ industry-specific category tags. And the solution can be customized further to fit your specific needs.
Tailored Taxonomy
We can map our deep tagging solution to your company's unique taxonomy, and even suggest improvements to that taxonomy based on the natural language your customers use.
High Accuracy
AI model trained on custom images for 90%+ accuracy in the automated product tagging process.
Detailed Classification
Our patent-pending image classification system will guide your marketing efforts by automatically classifying images on your website (or beyond) and giving them specific values.
Self Learning
Algorithms that constantly improve their attribute tagging process with new inputs.
End to End Workflow
Label, train, review, and finalize attributes – one-stop solution for automated product tagging.
Industries that have benefited from AttributeSmart
Our cutting-edge automated product tagging technologies are transforming merchandising around the globe including B2C, B2B, and B2B2C settings. Whether you operate an eCommerce website, traditional brick & mortar stores, or are a product manufacturer, improving your attribution in an automated way will drive value across your business systems.
Retail
Build high-quality, product attributes instantly for quick product allocation at the right store.
CPG
Create detail tags and metadata to automate the process of product tagging and discoverability.
Fashion
Craft personalized shopping journeys for customers by ensuring they find the right product at the right time.
Implementation of AttributeSmart takes less than
8 weeks
.
Learn
Customize and map product data attributes and photography to match your business taxonomy based on the natural language your customers use
Build
Build accurate automated product tagging powered by AI & cutting-edge Neural Network models to craft internal attributes, SEO-ready tags, and rich catalog data
Monitor
Continue to refine attribution using neural models and merchant feedback to fit business taxonomy
Deploy
Deploy across multiple business systems including Planning and Allocation, Web Search and Navigation, Personalized Marketing, Store Merchandising, and much more . . .
IA's smart

AI-powered
predictive analytics
benefitting retailers in 
~60%
Savings on manual attribution
"
2-3%
growth in bottom-line with improved assortment optimization powered by attribute data
>5-10%
AOV uplift with better product discovery
>5%
Improvement in e-commerce conversions
See AttributeSmart in action
Explore how our AI-powered automated product tagging software turns ordinary product photos or unstructured text into structured data for use in merchandising, marketing, supply planning, personalization, and other areas of retail innovation and CPG automation.
LEARN MORE
Here's why our clients trust us
Attribution is no longer a manual, tedious and error prone process here. AttributeSmart has literally moved us to the world of automation

Merchandising Lead,
Leading Apparel Retailer
Maintaining master data such as this is very helpful to us, especially with our somewhat broken product hierarchy. We are using this information to drive a lot of consumer preference analyses

Director of Analytics,
Leading Department Store chain
AttributeSmart has made the annual "attribution" exercise much simpler - and we now do product attribute analysis multiple times in a year and stay on top of trends. It is saving us Millions by optimizing our buy as well.

Buying team,
Leading Sports Retailer
It's like magic !

Senior buyer,
Popular DTC Brand
Resources
Unravel in-depth information on the latest trends in the market, technology, and how your peers are solving their biggest product tagging challenges by using IA's advanced attribute tagging solutions.
Learn More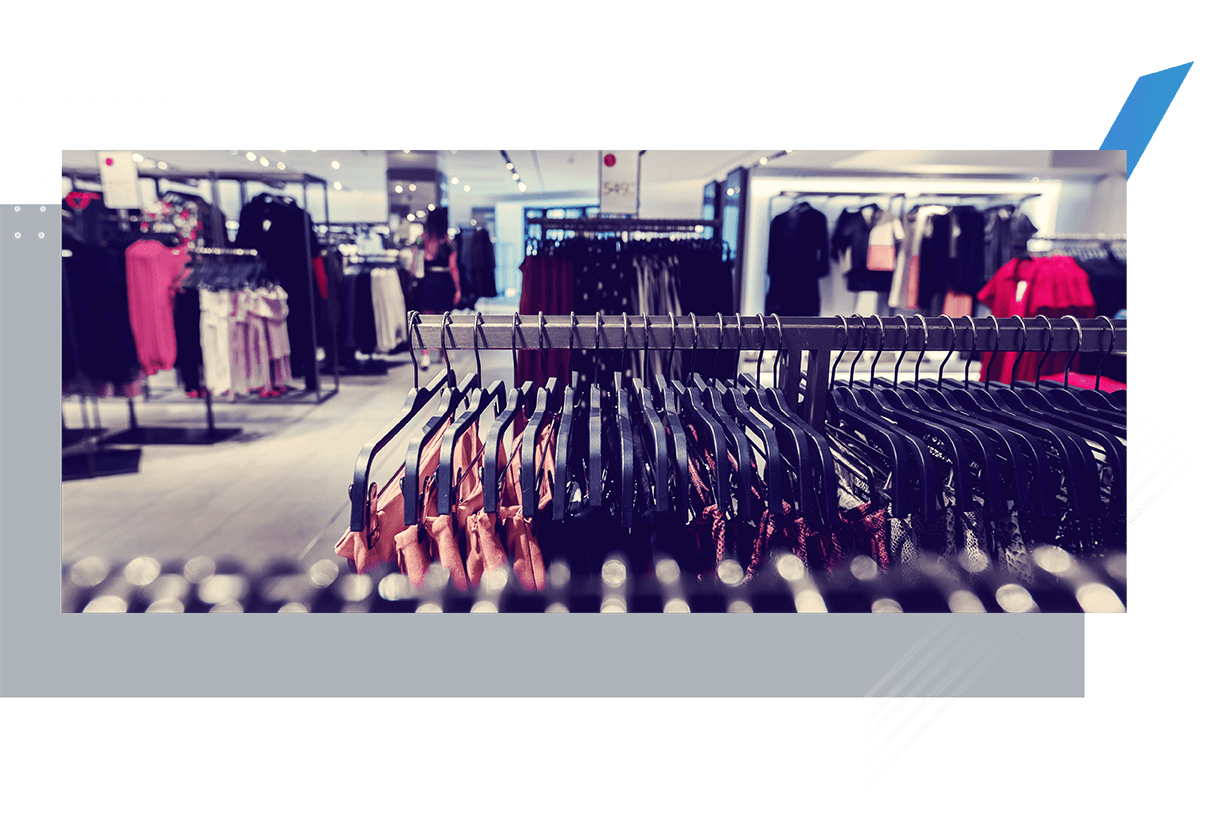 Related Solutions
Benefit from our end to end solutions at the outset, or add more as you see the difference we make.
Drive Automated Product Tagging Revolution with personalized Attribute Tags
Our automated product tagging software is a swift, accurate, and scalable way of adding meaningfully better information about your products in just a few steps. We help businesses increase their sales by making it easier for shoppers to find what they're looking for on your website or mobile app.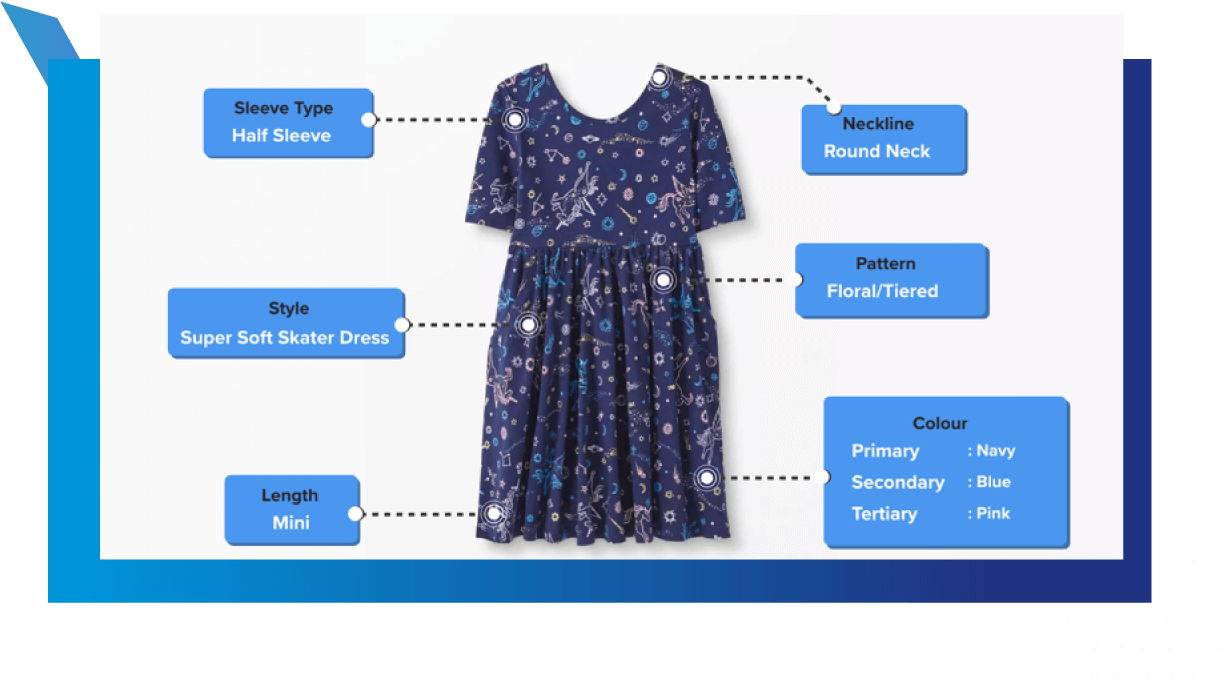 Driving ROI through
AI Powered Insights
We are led by a team with deep industry expertise . We believe in "Better decisions with AI" as the center of our products and philosophy, and leveraging this to empower your organization
REQUEST DEMO