TradeSmart
Drive Smarter Trade Promotions
Trade Promotion optimization solution to maximize ROI on your promotional spend.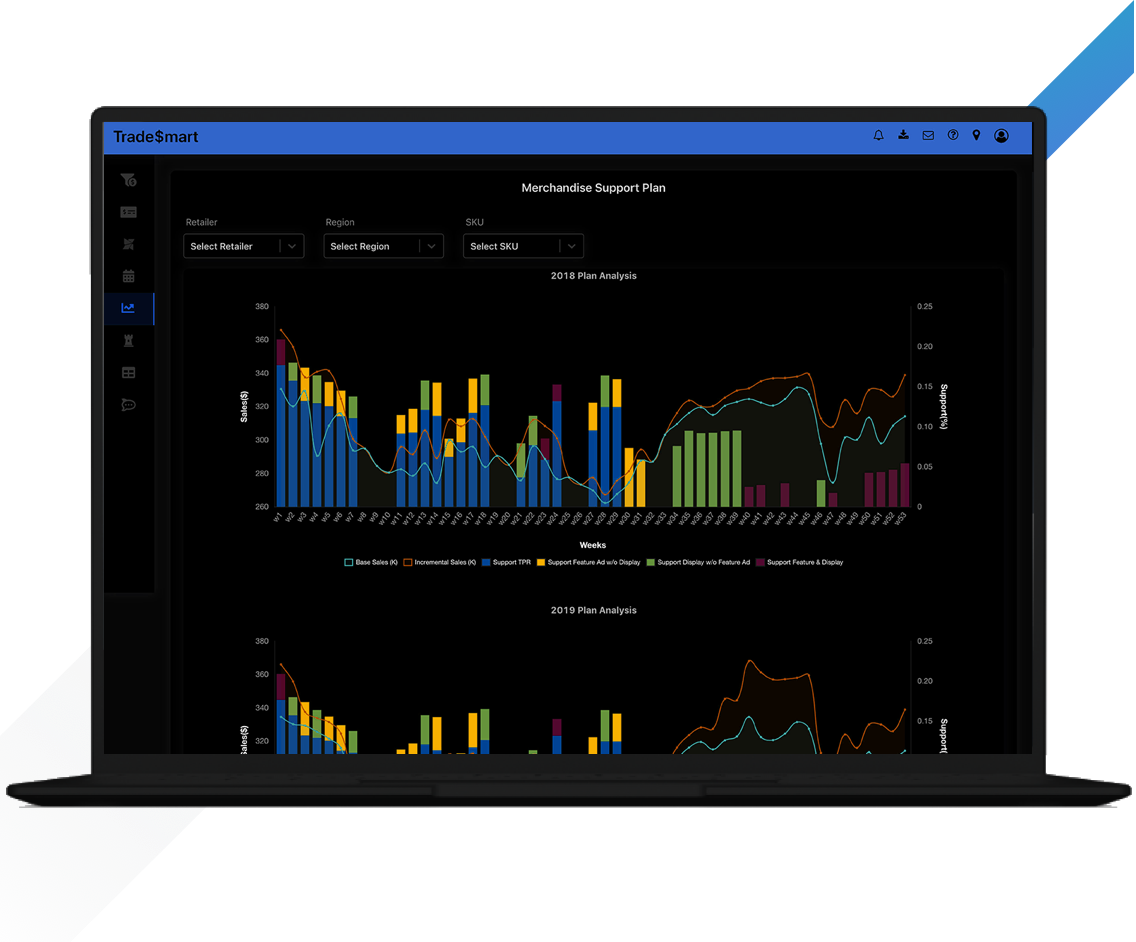 Smarter Trade Investments
Maximize return on promotional investment. Evolve from repeating last year's plan, to AI-driven optimized plans that drive incremental margin growth.
End-to-End Automation
Achieve over 70% reduction in time allotted to promotion planning, with performance reporting, forecasting, and promotional plan creation.
Easier Retail Partner Negotiations
Analyze promotional outcomes and financial impact for your partners, create data driven business case for increasing buy-ins.
Key Features
We maximize the potential of our users by automating repetitive calculations, leveraging machine learning to identify patterns.
See TradeSmart in action
TradeSmart clients realize a 10-15% improvement in their ROI on promotional investment, with this end-to-end trade solution for planning, forecasting, tracking and reporting.
Here's why our clients trust us
TradeSmart helped us manage our trade promotions efficiently, achieving win-win negotiations. It also helped us to effectively decrease our trade spend.

Planning and Promotion Lead,
Leading Food CPG Player
We were able to save a significant amount of money that was being spent on non-performing trade promotions. By identifying and eliminating these, TradeSmart helped increase the ROI on our trade promotions.

Head, Pricing and Planning,
Global Cosmetics CPG Brand
TradeSmart has helped us to rightly allocate our budget for trade promotions, maximize promotional effectiveness across channels, and helped us to get the maximum revenue benefits.

AVP, Planning and Merchandising,
Largest Global CPG House of Brand
Lorem ipsum dolor sit amet, consectetur adipiscing elit, sed do eiusmod tempor incididunt ut labore et dolore magna aliqua. Ut enim ad minim veniam, quis nostrud exercitation ullamco laboris.

Retail Analytics Head,
Global Wholesale Brand
Driving ROI through
AI Powered Insights
We are led by a team with deep industry expertise . We believe in "Better decisions with AI" as the center of our products and philosophy, and leveraging this to empower your organization
SCHEDULE A DEMO