PriceSmart
AI-driven lifecycle pricing solution
One-stop solution to automate your pre-season, in-season, clearance, and outlet pricing strategies to maximize margin and inventory sell-through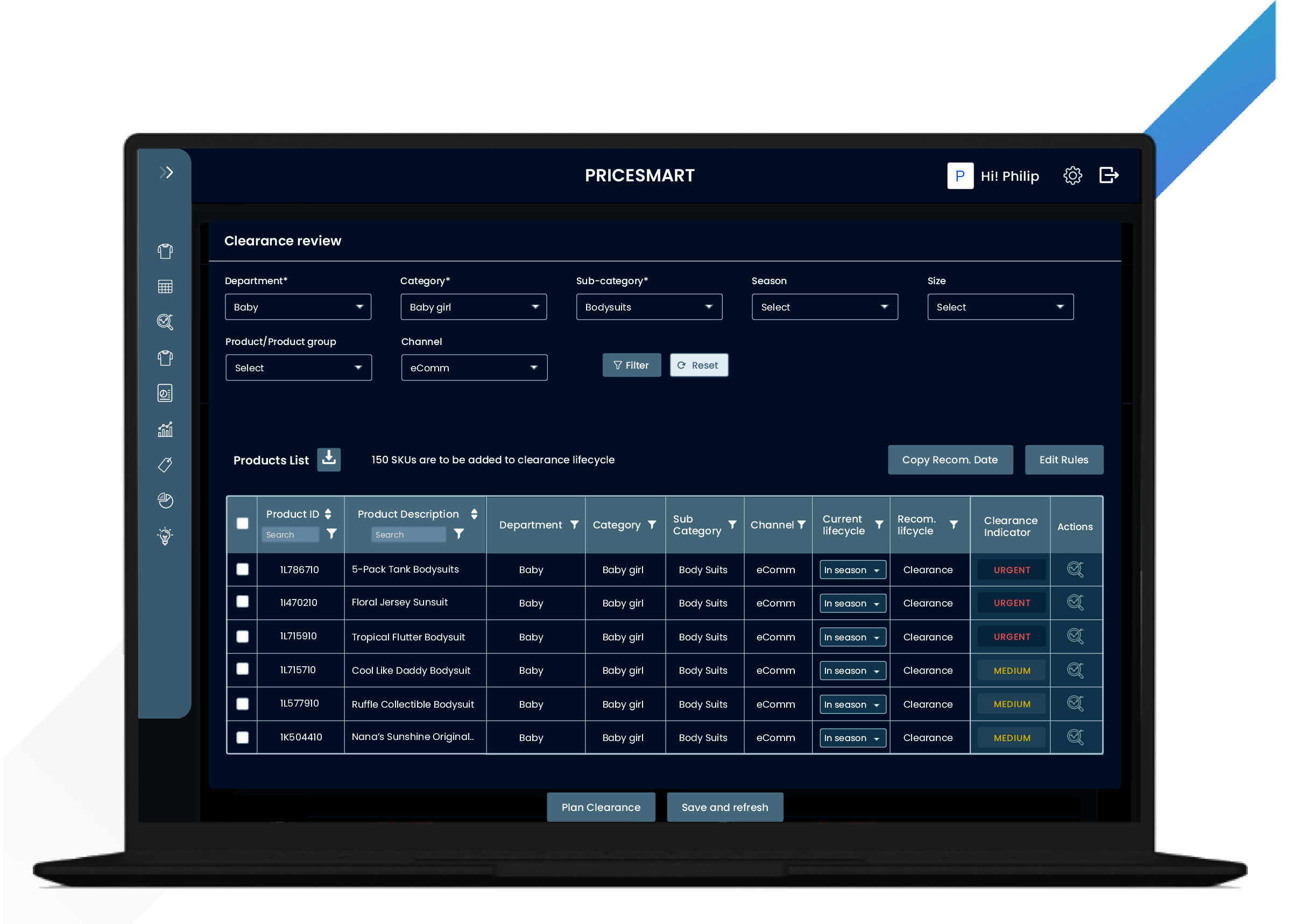 Optimized Lifecycle Pricing
Optimized prices for every product, at every stage of its lifecycle, tailored by region, channel, customer, and more. Take in-season pricing decisions with real-time monitoring.
Easy Integration
Seamless workflow integration with your data warehouse, marketing calendars, and other applications, enables real-time price recommendations
Clearance Strategy & Outlet Pricing
Automate product retirement decisions and clearance prices. Understand elasticity behavior of retired products and determine the right discounts to be given at outlet stores.
Key Features
We maximize the potential of our users by automating repetitive calculations, leveraging machine learning to identify patterns.
Agile forecasting
Dynamic forecasting driven by our superior forecasting engine that adjusts for rapid store SKU level demand pattern changes
Personalization
Pricing strategies can be optimized by store, store cluster, channel, region and customer segments.  Personalized price recommendations can also be provided at a segment of one.
Scenario Planning
Facilitates modeling various pricing options over specific time periods and immediate quantification of the impact
See PriceSmart in action
Explore how our clients are identifying optimal cadence to achieve the highest GM with stipulated clearance and higher than anticipated ROI generation, with profitable customer-centric pricing and promotions.
SCHEDULE A DEMO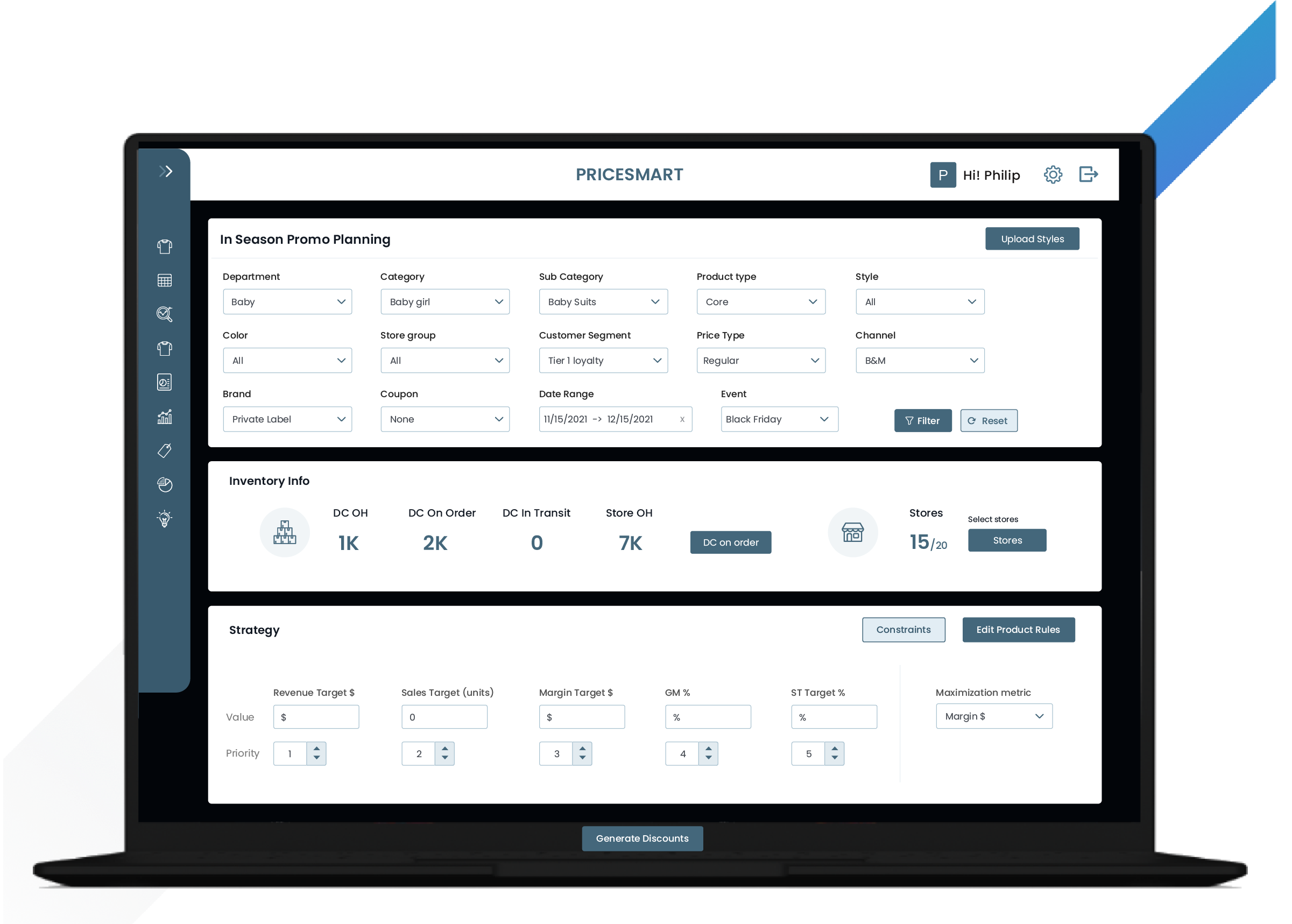 Explore Promo Calculator
An interactive tool which helps you optimize promotion lift that you need to keep your gross margin dollars stable.
EXPLORE NOW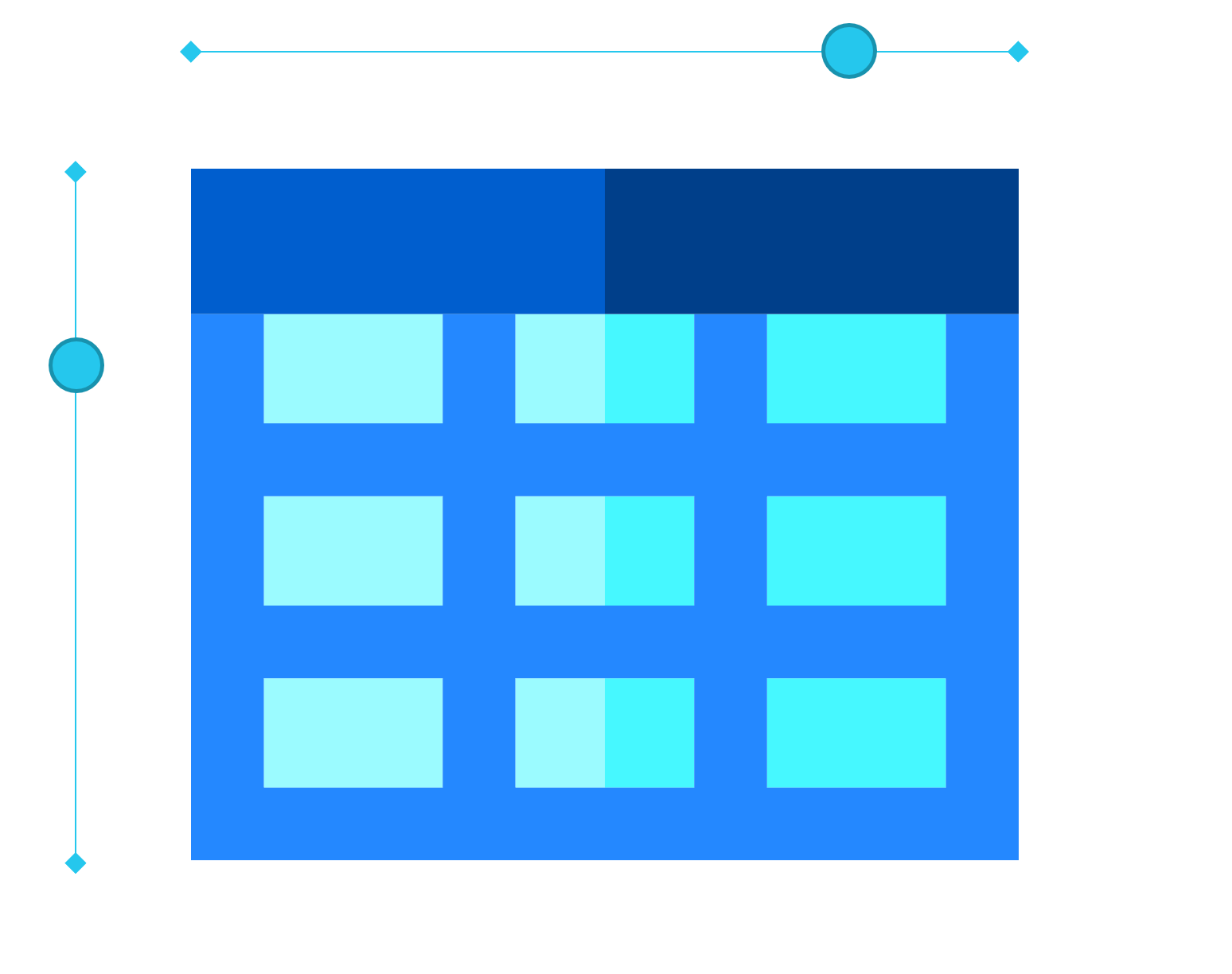 Here's why our clients trust us
PriceSmart helped us add millions to our bottom-line by optimizing our markdown cadence. We now have the ability to simulate multiple scenarios with a click and choose the best one.

Pricing Lead, Global House of Fashion Brands
Before PriceSmart, we were using excel sheets for making pricing decisions, we didn't have the ability to see what was happening across the board. Now PriceSmart gives us a definitive data-backed answer that is optimized for us. It is like a crystal ball.

Pricing Analyst, Fashion Brand Outlets
By utilizing PriceSmart we were able to leverage promotional price elasticity to improve our promo effectiveness leading to 400 basis point improvement within 30 days of implementation.

Head of Pricing and Promotion Management, large US grocery chain.
We were able to track our competitors' prices and arrive at the right price point for elastic as well as inelastic SKUs by implementing PriceSmart. PriceSmart helped us to boost our bottom-line in no time.

VP Pricing, leading US Coffee chain
Driving ROI through
AI Powered Insights
We are led by a team with deep industry expertise . We believe in "Better decisions with AI" as the center of our products and philosophy, and leveraging this to empower your organization
SCHEDULE A DEMO