ADA
Next Gen AI-led Forecasting
Advanced models that deliver highly accurate forecasts for sharper decision making.
SCHEDULE A DEMO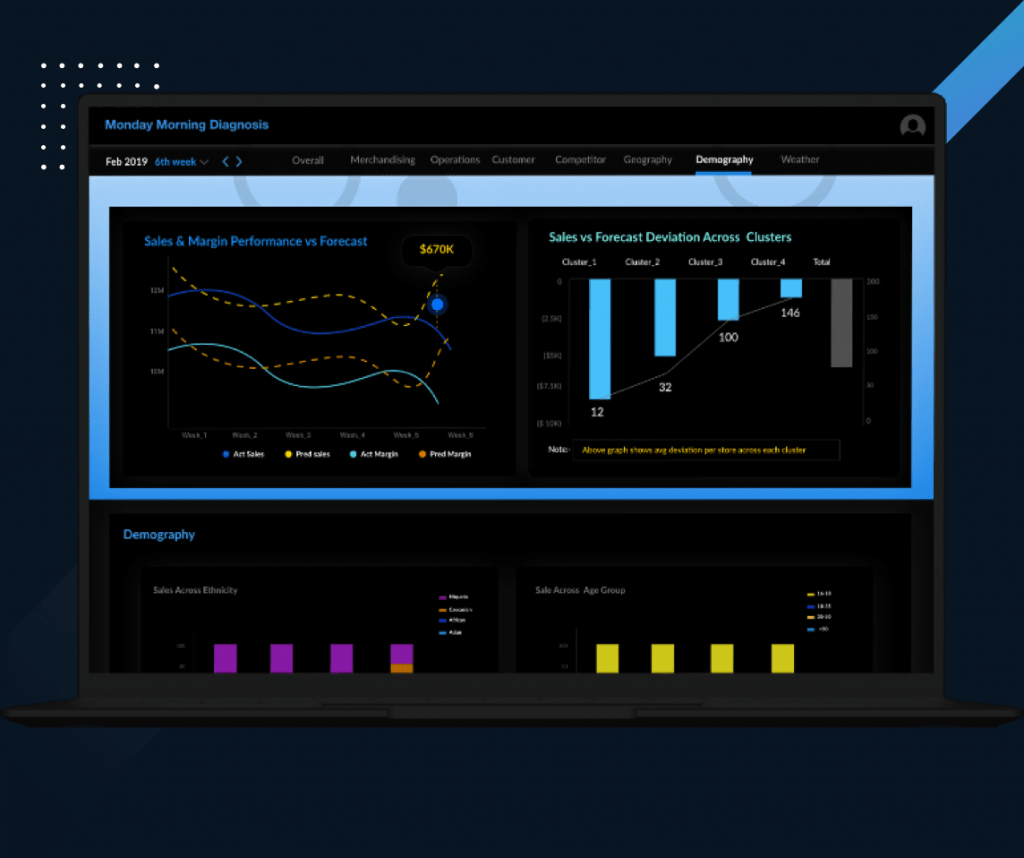 Faster Pattern Recognition
Forecasting algorithms that break down demand into key components like seasonality, promotional events, marketing lift etc.
Leveraging Big Data
ADA's algorithms bring together relevant external and internal data sources to generate accurate predictions to improve planning.
"What-if" Scenario Simulation
Quick simulation of scenarios to understand impact of variables on demand.
ADA Forecasting -
Delivering the future today
Superior mathematical computation engine, trained on +2PB data, combined with a deep retail context to accommodate various factors that affect demand.
SCHEDULE A DEMO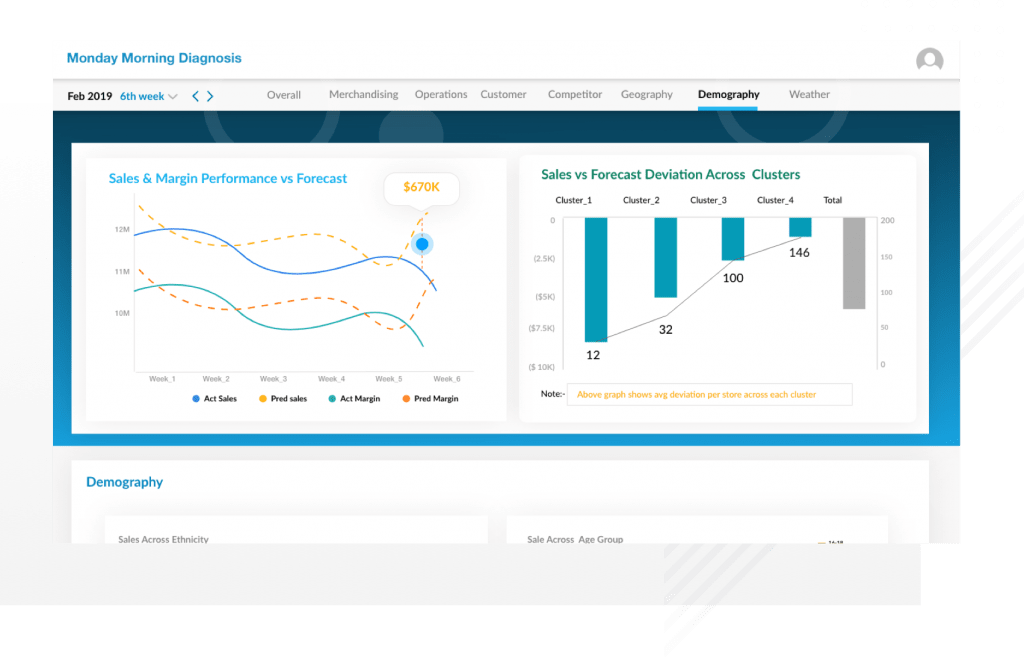 Achieving +90% accuracy in forecasting during COVID
ADA, our proprietary forecasting model, takes in variables to account for recent trends, stores opening/closures, traffic & mobility data, COVID infections, fatality & vaccination information, along with the client's demand to deliver an agile & accurate location level forecast
SCHEDULE A DEMO

Rapid assembly of emerging trends from recovery
Readjusting models and coefficients to factor in trends as and when businesses open.

Hierarchical forecasting
Region level greater accuracy forecasts model broken down to SKU-Store level.

Recency
Our models take recency into account that helps to continually analyse and adapt to the latest market conditions.
ADA, powering all our SaaS products
Curated with science, contextualized with our industry expertise, and delivered to our customers with a promise of better business results
SCHEDULE A DEMO
AllocateSmart
Eliminate lost sales with right product at right place at right time
PriceSmart
Suite of pricing solutions that optimize business strategies
AttributeSmart
Collect attributes from product images with image and text processing
TradeSmart
Trade Promotion planning solution to maximize trade promotional ROI
AssortSmart
Enable customer centric, localized, SKU level assortment with planning
Here's why our clients trust us
The accuracy of Ada's prediction was a game changer for us. It has helped us make critical business decision with quickly and with more confidence

Merchandising VP,
Leading Fast Fashion Retailer
We used to chase our sales and were always playing catchup, now with forward looking metrics, we are ahead of the game

CFO, Popular
Catalog Retailer
We were using LY numbers as forecast guidance, and then COVID hit. Most of our legacy planning systems became useless. The speed with which IA could come in and get our forecasting errors down during the pandemic is commendable.

Chief Planning Officer,
Large Grocery Chain
The speed with which Impact Analytics tweaked its forecasting models to accommodate the disruptions caused by pandemic only strengthened our belief that they are the right team to help us make sense of the sea of data that we are sitting on

Analytics Head,
Leading Pet Supplies Retailer
Driving ROI through
AI Powered Insights
We are led by a team with deep industry expertise . We believe in "Better decisions with AI" as the center of our products and philosophy, and leveraging this to empower your organization
SCHEDULE A DEMO