AttributeSmart - Transforming
Business with Rich Data
Create accurate attributes from product images to enable better forecasting, allocation, buying with a fraction of effort.
AttributeSmart Advantage
Consistency in product data, faster time-to-market, increased productivity all made possible with 95% accuracy in collecting attributes, leading to improved EBITDA and CSAT.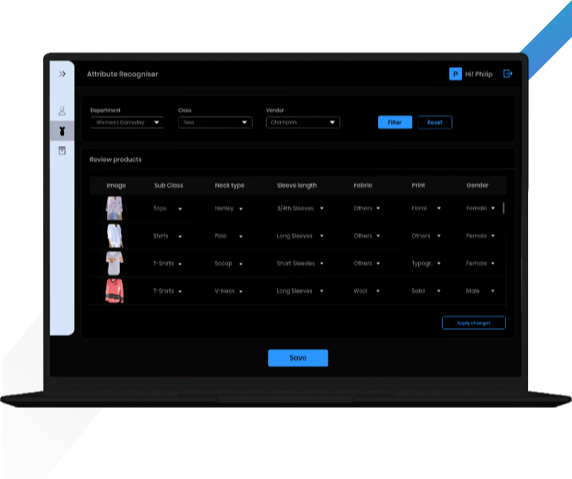 Consistent Data
Accurate product tags powered by AI & cutting edge Neural Network models.
Improved Merchandise ROI
Drive margin optimized decisions across Buying, Planning and Allocation leading to higher ROI.
Boost Productivity
Easy to use work-flows reduce manual effort by +70% to tag product attributes accurately.
Key Features
We maximize the potential of our users by automating repetitive calculations, leveraging machine learning to identify patterns.
See AttributeSmart in action
Explore how our clients have achieved +90% accurate product tags while reducing human effort by more than half.
Attribution is no longer a manual, tedious and error prone process here. AttributeSmart has literally moved us to the world of automation

Merchandising Lead,
Leading Apparel Retailer
Maintaining master data such as this is very helpful to us, especially with our somewhat broken product hierarchy. We are using this information to drive a lot of consumer preference analyses

Director of Analytics,
Leading Department Store chain
AttributeSmart has made the annual "attribution" exercise much simpler - and we now do product attribute analysis multiple times in a year and stay on top of trends. It is saving us Millions by optimizing our buy as well.

Buying team,
Leading Sports Retailer
It's like magic !

Senior buyer,
Popular DTC Brand
Driving ROI through
AI Powered Insights
We are led by a team with deep industry expertise . We believe in "Better decisions with AI" as the center of our products and philosophy, and leveraging this to empower your organization
SCHEDULE A DEMO