AssortSmart
AI Powered Assortment Planner
Build a strategy with localized consumer demand patterns leading to increased customer satisfaction, improved turns and GM$ growth.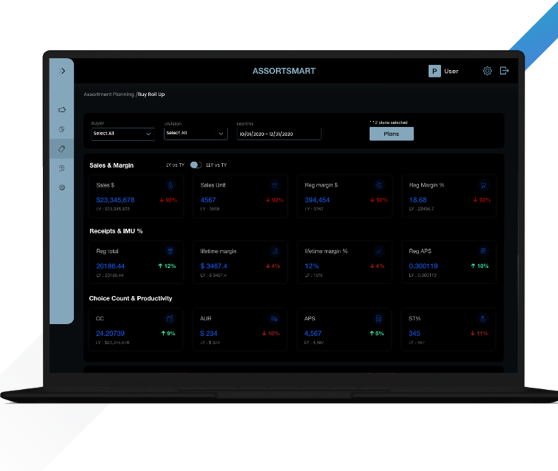 Improved Inventory Turn
Average inventory turn increase of 10% with assortment rationalization and accuracy of buys, leading to increased full-price sell through.
Automation
Decreases the assortment planning process by an average of 80%, using the latest AI techniques and algorithms.
Quick and Easy Integration
Product installation with easy integration into existing workflows, in less than 8 weeks.
Key Features
We maximize the potential of our users by automating repetitive calculations, leveraging machine learning to identify patterns.
See AssortSmart in action
A platform built for expansive data access, powerful analytics and actionable insights. See how we are transforming assortment planning and optimization for our customers.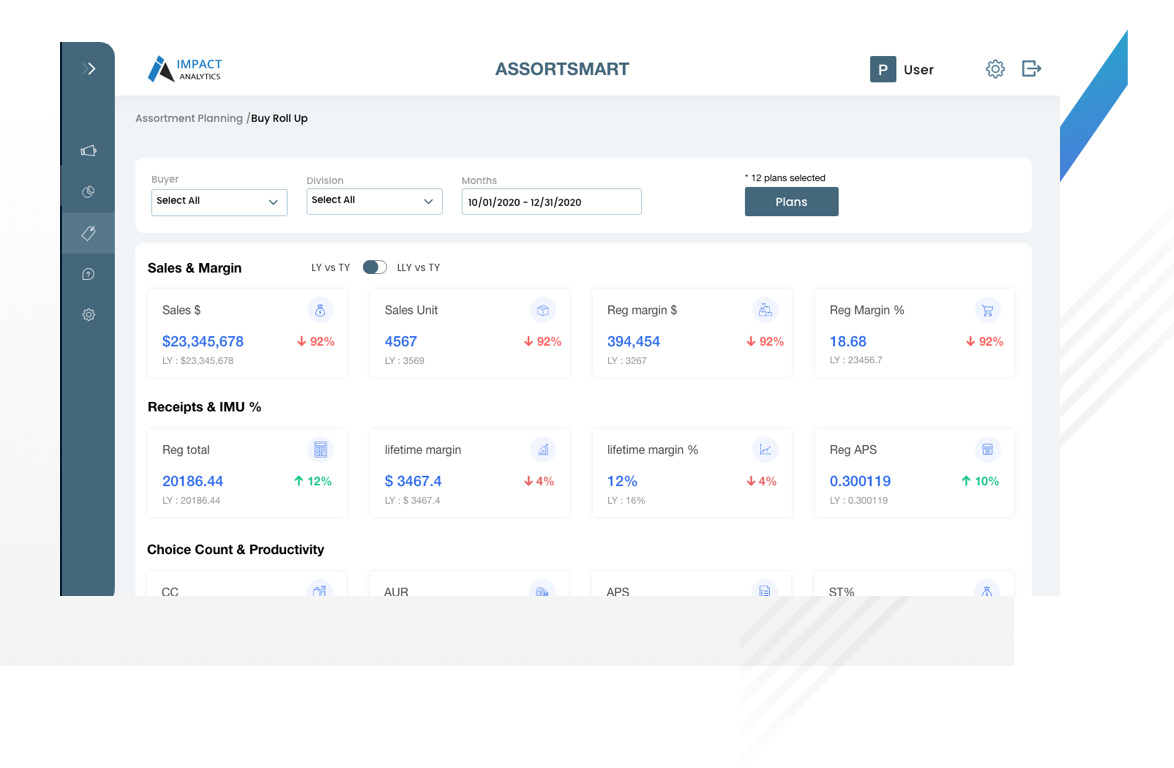 Here's why our clients trust us
AssortSmart can work within our business constraints. I used to think our internal processes were one of a kind and no tool would be able to work around our business nuances, but this product is able to do that and deliver real, actionable recommendations

Director Assortment and
Allocation, Leading Footwear Brand
We were creating our assortment based purely on revenue, AssortSmart is telling us which assortment plan will work best for which doors based on product attributes.

Head of Planning,
Large Department Store
It was all guesswork before AssortSmart. Apart from the data driven nature of the recommendations, the application is well tuned our business nuance making it extremely useful and contextual

VP, Planning and Merchandising,
Leading Specialty Retail
The automation of the process is unreal - now I am actually able to evaluate multiple scenarios before finalizing my buy plan

Senior Buyer,
Specialty Retailer
Driving ROI through
AI Powered Insights
We are led by a team with deep industry expertise . We believe in "Better decisions with AI" as the center of our products and philosophy, and leveraging this to empower your organization
SCHEDULE A DEMO