In this new, heavily researched e-book, we explore the key trends shaping retail demand forecasting and the available tools—from the increasing effectiveness of artificial intelligence and machine learning algorithms to the integration of real-time data—enabling you to stay comfortably ahead of customer demand.
Every generation of retailers has its forecasting challenges. But this is the first with access to an AI/ML toolset that's more than equal to the task.
For all the details, download the e-book: RETAIL DEMAND FORECASTING IN 2023 AND BEYOND
Retail Demand Forecasting: What's Changed?
The art and science of retail demand forecasting is much more complex than ever before in part because businesses and external sources generate more data than ever before. But today's AI-driven technologies put the power of data-driven insights at your fingertips—and that puts you in greater control than ever before.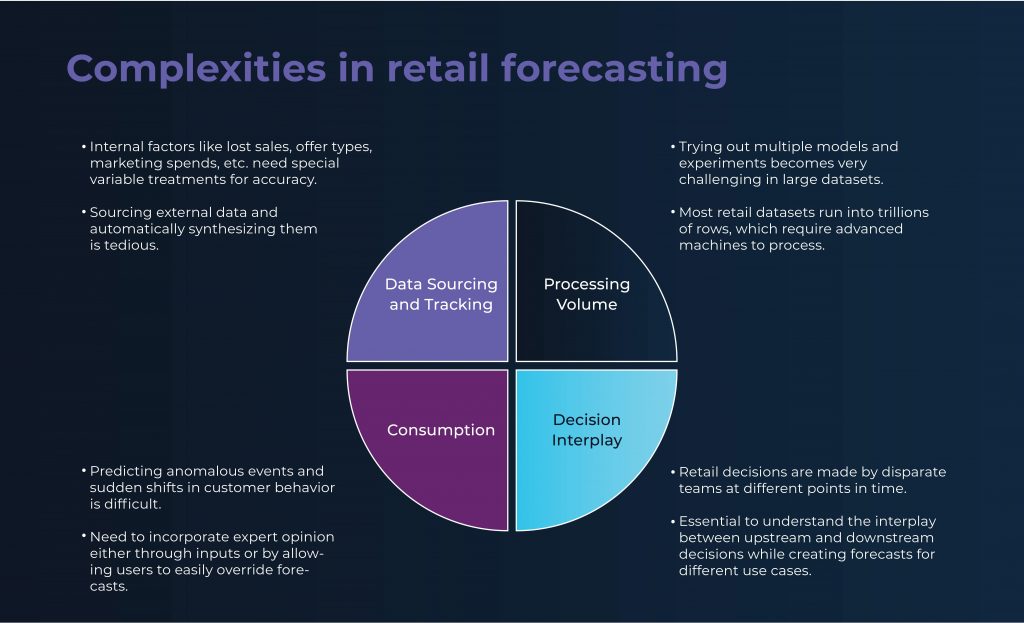 Long gone are the days when retail sales followed "same as last year" patterns. In truth, disruptions from fluctuating macroeconomic indicators, weather, natural disasters, disease outbreaks, competitors' actions or announcements, and more have always rendered historic sales patterns a poor predictor.
But especially today—with a fast-changing global economy, social media propelling turn-on-a-dime customer sentiment, and other hard-to-predict effects of our modern world—traditional forecasting approaches simply cannot accurately forecast future demand. There's just too much relevant data to collect, evaluate, and synthesize.
To learn the five key reasons traditional methods fall short of AI/ML-based forecasting, download the e-book.
Retail Demand Forecasting: Getting It Right
We can't say this often enough: Better forecasting means better decisions and better results.
AI/ML-based forecasting solutions for retail, CPG, and grocery verticals use a mix of sophisticated models—statistical, machine learning, time series, neural network (deep learning), and others—to produce remarkably accurate near- and long-term predictions.
Today's innovative AI/ML-powered forecasting engines enable your organization to weigh a bewildering array of fluctuating and often-surprising demand-influencing variables and to find the relevance in patterns that are hidden from other statistical methods.
Only AI/ML-driven forecasting sees through the noise to find profitable data relationships, absorbing demand shocks and trends and, using the most recent data, automatically updating and generating refreshed forecasts. In fact, today these systems are able to automate the entire retail demand forecasting pipleine—no additional programming or human intervention required.
Take the Next Step
Rev up your demand forecasting engine and propel your organization to ever-greater heights!
Download E-book