When China announced it would lift its international travel quarantine for the mainland in early January, Global Times reported the country's online travel agencies saw a surge in searches and bookings for international flights and accommodations, with some metrics hitting a three-year high. This wasn't surprising: Demand always jumps when travel restrictions ease, as demonstrated not that long ago in Hong Kong.
China is experiencing massive pent-up demand for all types of international travel. At the front of the pack are travelers wishing to visit friends and relatives, to study, and to take care of long-delayed or urgent business. We expect leisure travelers to follow quickly.
China's "reopening" is important for the world and, more specifically, for countries eager to welcome Chinese travelers. In pre-COVID times, many Chinese travelers came to the United States and a great many of them shopped. A lot. (Details below.) The pandemic and consequent quarantine restrictions slowed the Chinese visitor flow to a trickle and it has barely recovered since—especially compared to US inbound travel from much of the rest of the world.
Retail Demand Forecasting: The Impact of Chinese Leisure Travel on US Retail Sales
Consider these pre-COVID statistics to get a sense of how China's leisure travel affects US retail sales.
In 2018, 3 million Chinese visitations supplied the third largest source (7.5 percent) of overseas travel to the US 

In 2019, China's 2.9 million visitations accounted for 7 percent of overseas travel to the US

According to the industry body

US Travel Association

:

In 2018, the average Chinese traveler to the US spent about $6,500 (during an average 12-day visit), among the highest of all international visitors

Chinese travelers visit the US for vacation (33 percent), friends/relatives (22 percent), education (18 percent), business (15 percent), and conventions/trade shows (12 percent) 

Their top activities include shopping—especially for luxury goods, which tend to be significantly cheaper due to high Chinese import duties—sightseeing, fine dining, and visiting art galleries/museums, national parks, and small towns
Barring a couple of year-end holiday months, we see a strong correlation between Chinese pleasure visitation (tourism) and sales patterns in "international stores" (stores located in tourist areas or frequented mostly by tourists).
In 2022, Global Travel to US Picked Up Steam—with Exceptions
The pandemic badly disrupted international tourism to the US and, although it has made some recent gains, visits remain well below pre-COVID levels. Inbound travel to the US continues to be constrained by country-specific COVID regulations. Recent international traveling patterns are mixed: Travel from Asia, and especially China and Japan, remains way down, while visitation from other countries has been improving.
As of December 2019, the greatest overseas visitations to the US came from Western Europe (36 percent), followed by Asia (30 percent) and South America (15 percent)

As of December 2022, per

I94 arrivals data

, visitations from Western Europe and South America gained ~70 percent of their pre-COVID levels, while Asia is at only ~34 percent

China and Japan account for most of Asia's poor recovery; in fact, in 2022 Chinese visitations were an anemic ~13 percent of pre-COVID levels

Improving International Tourism Lifts Sales
Here we looked at the sales recovery across a set of Premium Apparel & Accessories Brands. We further categorized these stores into two groups: International Stores (stores located in tourist areas or frequented mostly by tourists) and Domestic Stores (stores frequented mostly by domestic, or nontourist, shoppers).
Domestic Stores have recovered better than International Stores. See the graph below.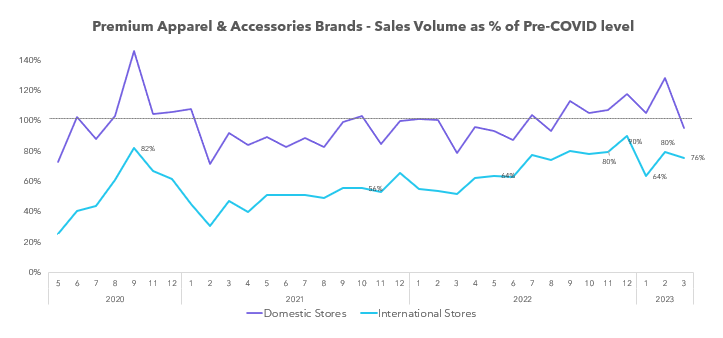 International Stores's sales started picking up after Q4 2022. These are positive signs but it's too early to draw conclusions. The US government's decision to reverse its policy requiring would-be travelers from China (as well as Hong Kong and Macau) to provide negative COVID-19 test results, effective March 10, may by increasing US-China travel and trade with consequent positive economic implications.
Retail Demand Forecasting: Chinese Visitations Will Climb in 2023—But How High?
Based on the latest recovery pattern and other factors, Impact Analytics™ forecasts Chinese travel to the US to reach 50-70 percent of pre-COVID levels by the end of 2023.
Chinese visitors are already contributing additional footfall to stores in 2023. Given Chinese tourists' historical shopping preferences, we expect retailers who carry Luxury Lifestyle Products, Fashion Accessories, and Premium Apparels to benefit the most. Also, outlet mall retailers in New York, Miami, Orlando, San Francisco, Las Vegas, and other tourist destinations should be among the first to experience the travel rebound's effects.

Some regulatory and geopolitical factors that might play a role include:
Difficulty getting passports: Many Chinese passports expired during the pandemic—McKinsey estimates as many as 20 percent—and passports were not being renewed during the lockdown period. The Chinese government is now renewing passports, and Chinese travelers are rushing to get them, but the backlog will slow the travel rebound.

The troubled US-China relationship: Toward the end of 2018, growing tensions between the US and Chinese governments seemed to dampen Chinese enthusiasm for visiting the US. The relationship has grown only more fraught since, especially as the US and Chinese governments appear to line up on opposite sides of the war in Ukraine. Is 2023 going to be a fresh start for Chinese travelers? How will the US figure in their travel plans? There's no way to tell for sure.

See the graph below. In 2018 and 2019, ~78 percent of Chinese visitors to the US held a Pleasure visa.
Take the Next Step
Retail demand forecasting requires retailers to play it smart and evaluate every factor that may influence demand; evolving traveler visitation patterns is only one.
Impact Analytics ForecastSmart™ uses artificial intelligence and machine learning to track and analyze an astonishing array of disparate information sources in real time, then generates the industry's most accurate forecasts for all your SKUs across their entire lifecycles. Check it out.
Discover More