MarkSmart - AI powered
Markdown Optimization
Automate your Markdown and Clearance strategy to clear excess inventory, improve your cash position, secure margin and maximize sell through.
MarkSmart Advantage
MarkSmart, powered by our Machine Learning algorithms allows merchants and planners to arrive at an optimal Markdown strategy in a matter of seconds. MarkSmart is the fastest Markdown optimizer that is configured for Apparel, Fashion, Specialty, Outlets and General Merchandise business.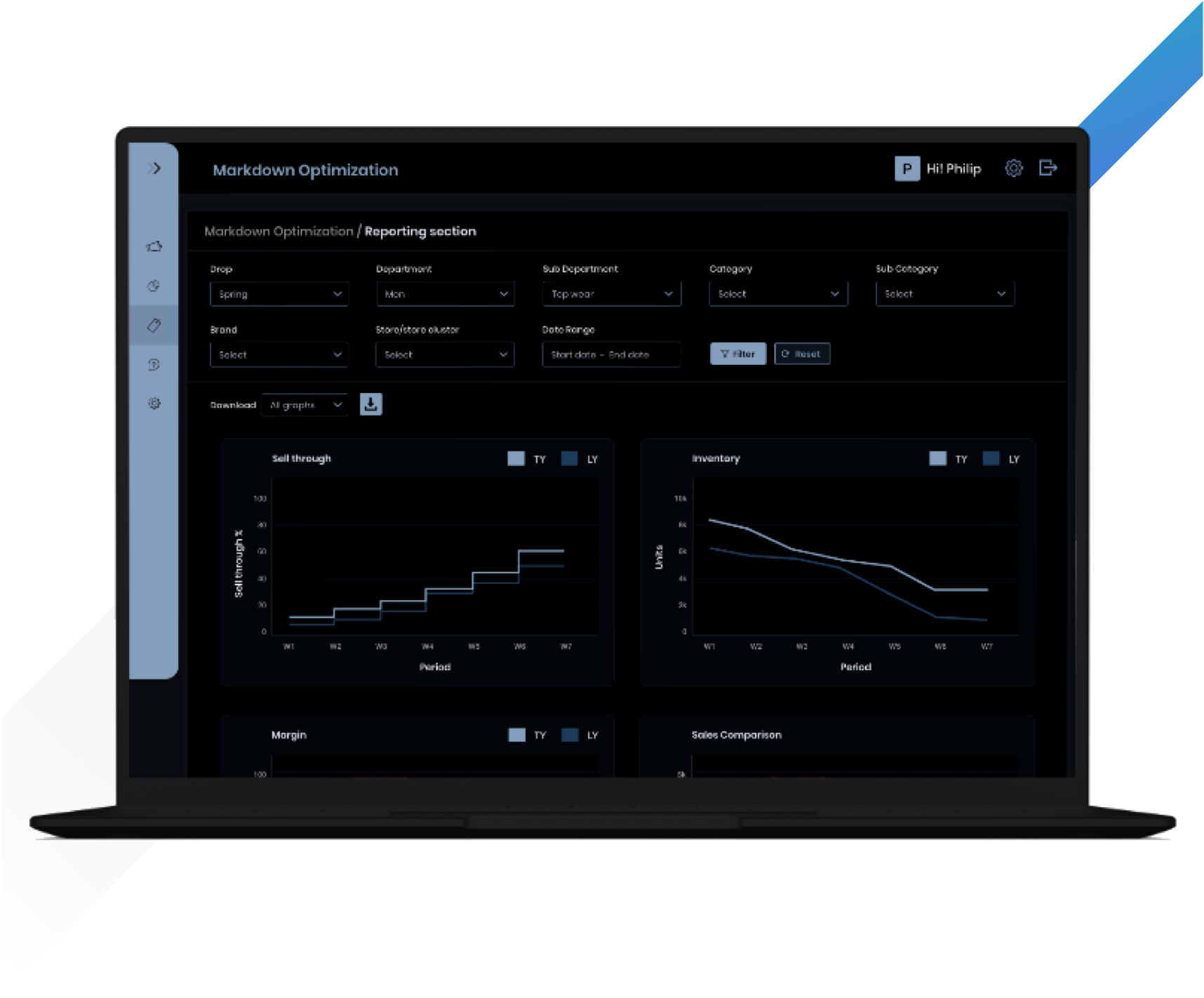 Automation
MarkSmart automates the calculations of Sell-through, Inventory, Price-elasticity and Lift calculations at the most granular level.
One Source of Truth
View all your historical and future programs in one place, compare the recommended plan to last year, monitor weekly trends and design your strategy.
Quick and Easy Integration
Seamless workflow integration with your data warehouse allows us to get a feed of all the pricing, promo, inventory information in real-time.
Key Features
We maximize the potential of our users by automating repetitive calculations, leveraging machine learning to identify patterns.
Agile Forecasting
Dynamic forecasting driven by our proprietary COVID-adjusted forecasting engine that adjusts for rapid store level demand pattern changes.
See MarkSmart in action
MarkSmart clients have improved their margin by +15%, while maintaining or improving sell through even during COVID. Apparel retailers have seen a 2-3x jump in Sales velocity by getting their markdown timing and cadence right with MarkSmart.
Here's why our clients trust us
As a fashion house with multiple brands, we were able to drive significant EBITDA across our portfolio through MarkSmart. Powered with their A.I. and analytics solutions they are an ideal in-house partner for us

SVP, Pricing, Global Fashion
and Lifestyle Company
The MarkSmart summary feature is a game changer for us, the entire week's recommendations are in one place and I can compare pre-post impact. Has made my life and my teams workload so much easier

Pricing VP,
Leading Apparel Brand
MarkSmart is amazing. Prior to this it was never easy to visualize the efficient cross-over between GM vs Sell Thru - these guys have made it very intuitive.

Retail Analytics Head,
Global Wholesale Brand
Before MarkSmart, we were using excel for making our pricing decisions, we didn't have the ability to see what was happening across the board or simulate different scenarios. It was mostly Same As Last Year (SALY) or we made tweaks based on our experience. Now the product gives us a definitive data-backed answer that is optimized for our various targets and constraints. It is like a crystal ball

Pricing Analyst
Fashion Brand Outlets
Driving ROI through
AI Powered Insights
We are led by a team with deep industry expertise . We believe in "Better decisions with AI" as the center of our products and philosophy, and leveraging this to empower your organization
SCHEDULE A DEMO