Clients who trust us
























Clients who trust us

and more...
World class solutions.
Happy clients.
Learn Why Some of The World's Leading Retailers
Love Us!
Best in class forecasting
powered by AI
ADA, our AI powered Forecasting Engine, enables cutting edge predictive solutions for retail, CPG, and grocery verticals.
Our CEO, Prashant Agrawal, in discussion with Mark Mizicko, ex CPO Belk, ex COO Torrid, and Bart Sichel, ex CMO Burlington Stores during NRF 2021.
Here's why our clients trust us
Smart, dependable and agile IA teams helped us with a refined pricing strategy. Given our complex business, the teams were able to create and add value in a very short time

CEO, World's largest
music retailer
Your work on a myriad of future ready data science projects, will become a foundational piece to our success and aspiration of tripling our business

CFO, World's largest
loyalty network company
The ability of Impact Analytics' team to come in and enable a data-driven culture was highly appreciated over and above the customized, easy-to-use and accurate forecasting engine developed for our merchants

SVP, Pricing at a
Specialty Retailer
A completely tailored solution for forecasting and managing our inventory across stores helped us reduce our capital tied up in slow-moving inventory while also recovering lost sales

SVP, Merchandising at
a Fashion Retailer
Our featured solutions
We turn your data into actionable insights that drive bottom-line growth. Leverage our AI powered SaaS solutions across your entire value chain.

Leverage intelligent clustering and product attributes to create targeted assortments.
Drive profits and decrease markdowns by optimizing to the right inventory depth and breadth.
LEARN MORE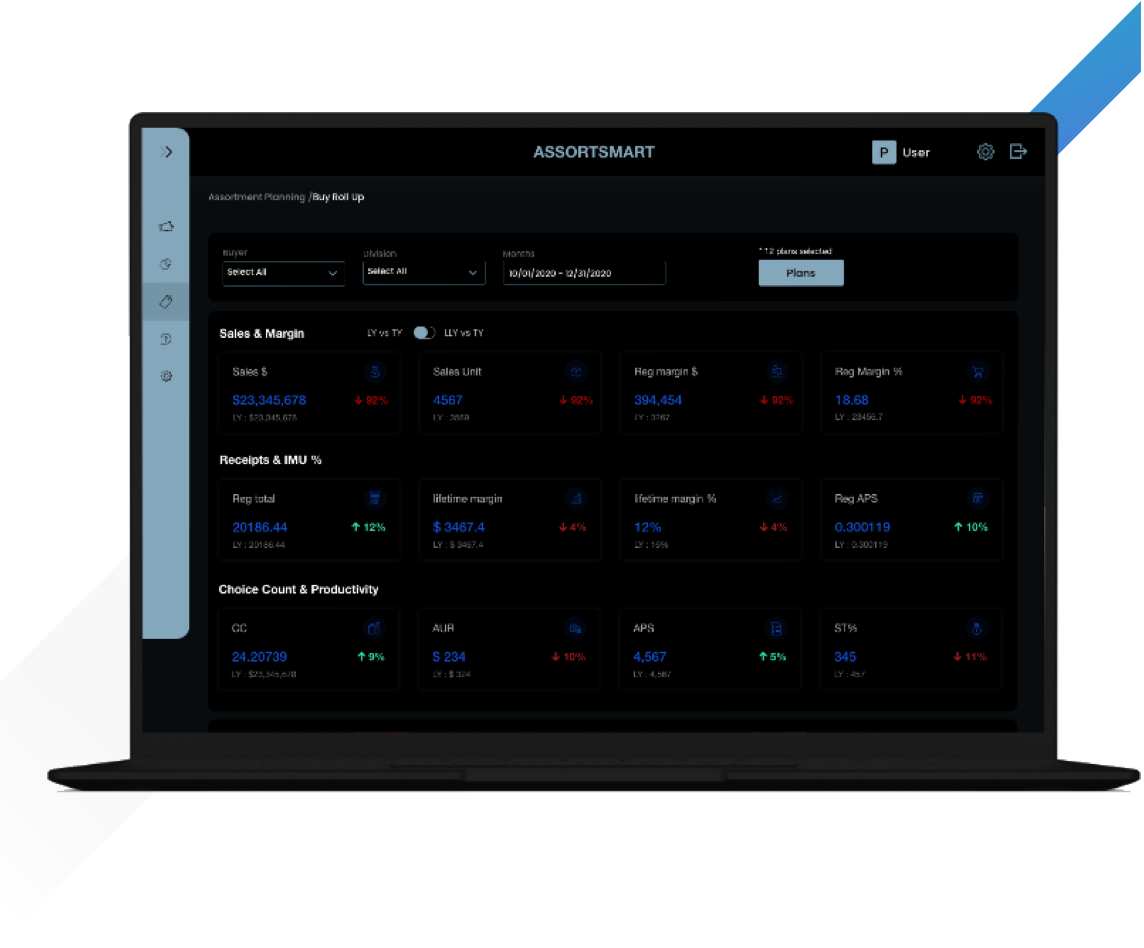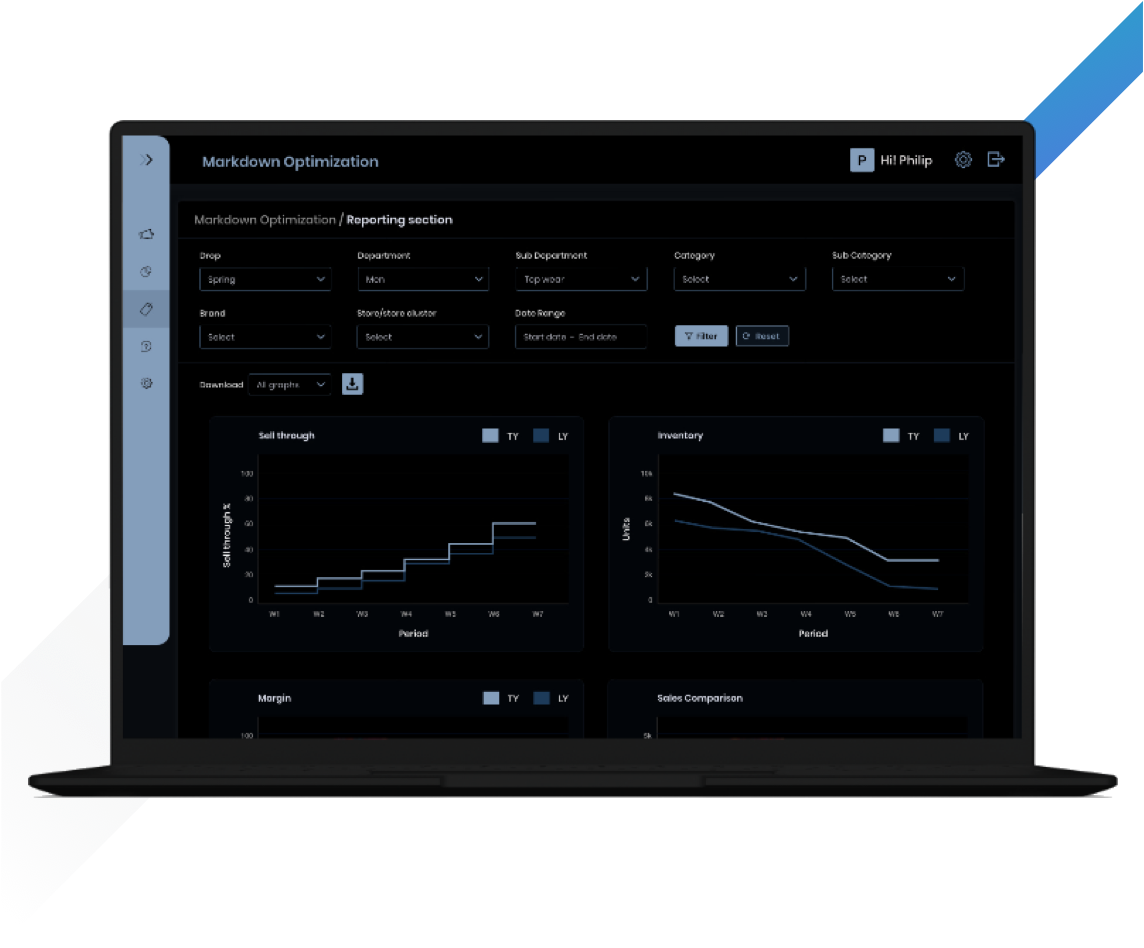 Forward-looking forecasts at store SKU level to stay ahead of trends and seasonality impacts.
Drive pricing decisions with an automated pricing cadence, and run margin accretive promos throughout the product life cycle
LEARN MORE

Forecasting = ADA
Achieve high forecasting accuracy with an AI guided proprietary forecasting model that factors in retail.
Incorporating dynamic adjustments help deal with disruptions by preventing radical deviation of forecasts.
At any level of geography, product hierarchy and time duration. Save millions of dollars and drive EBIDTA growth, with the predictive ability of our automated engine.
LEARN MORE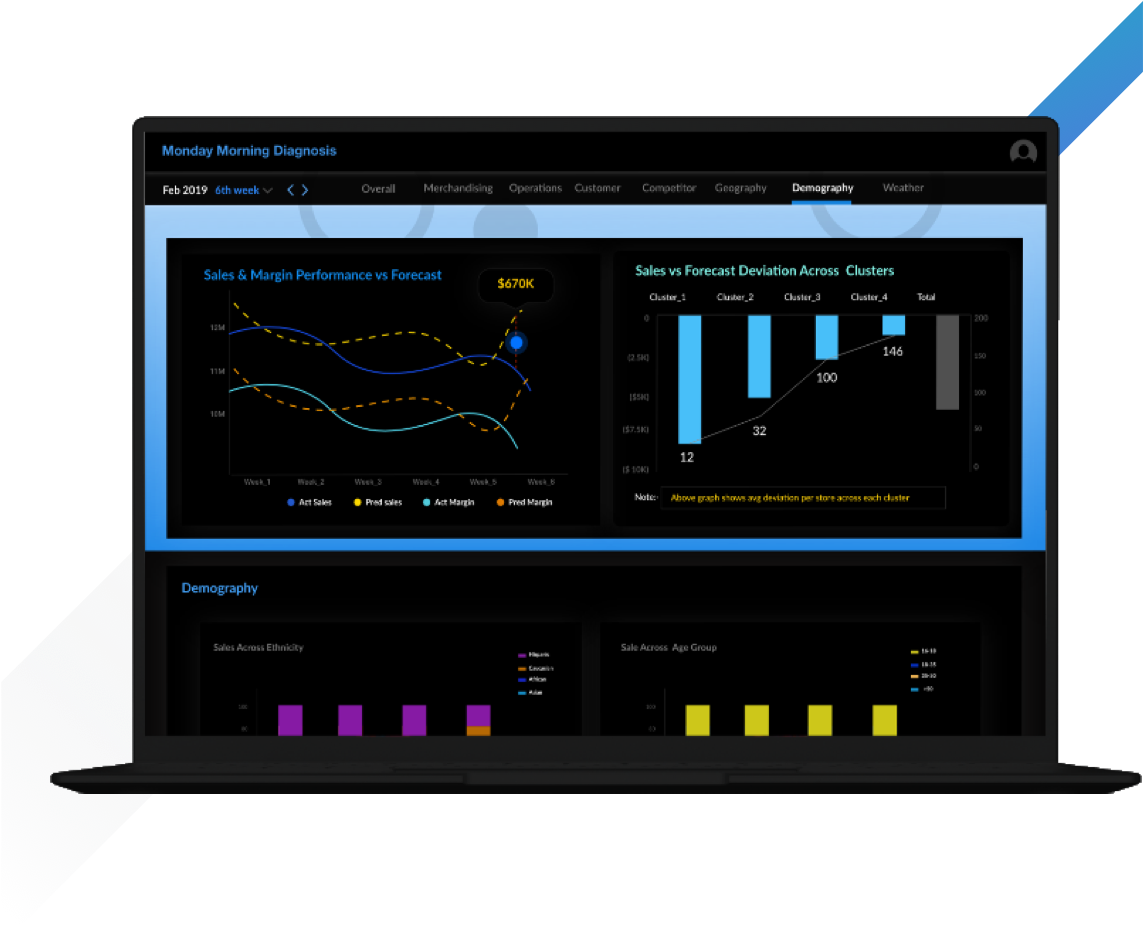 We are building the best-in-class decision systems, to unlock the power of artificial intelligence for our users, in easy-to-use workflows.
We maximize the potential of our users by automating repetitive calculations and leveraging machine learning to identify patterns. We strive to help our users run smarter and more profitable businesses.
KNOW MORE

Industry experts
Solution for retailers,
configured by retailers,

Results oriented
Witness real dollar
impact in 8 weeks

Configurable
Workflows and quick
configuration ability

Deep commitment
Fearless dedication
to innovation
Driving ROI through
AI Powered Insights
We are led by a team with deep industry and AI expertise . Our philosophy around products and decision making is that we can arrive at "Better decisions with AI" . We leverage this core belief to deliver products that empower our customers.
SCHEDULE A DEMO